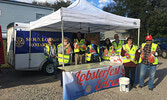 Lobster Sale to replace Lobsterfest for one more year
Mike Lawrence -
Staff Writer
Due to the ongoing pandemic, the Rotary Club of Sioux Lookout's annual Lobsterfest event has been put on hold for one more year. In its place the Rotary Club will once again be hosting a Lobster Sale event. Rotary Club of Sioux Lookout Treasurer Susan Barclay explained, "The COVID restrictions on gatherings, and the fact that businesses are still trying to recover… it is not a good time to be requesting donations… The heart of our fundraising is through the generosity of the local businesses". Items donated in previous years were used to run a silent auction, a key component of the Lobsterfest's fundraising efforts.
Tickets are available now at Fresh Market Foods and are expected to sell out. The lobsters themselves will be available for pick up at the Rainbow Car Wash parking lot on September23rd between 4:30 p.m. and 7:30 p.m.
Last year's Lobster Sale brought in just over $1000 after expenses. Lobsterfest would usually raise in excess of $10,000. The Rotary Club of Sioux Lookout decided to continue with the lobster sale as, "We were just trying to bring some normalcy back to life in COVID" Barclay stated, adding that this year's goal is to at least break even as the cost of the lobsters has increased significantly.
Any funds raised from this year's sale will be used for Rotary projects locally as well as the student exchange program once it restarts. Barclay added "We wish we could offer the REAL Lobsterfest. Hopefully next year we can get back to an evening of fun and entertainment with lobsters."