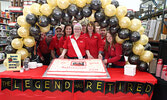 Linda Bancroft celebrates retirement with family, friends, co-workers and customers
Tim Brody - Editor
After 35 years of helping customers with their hardware projects, Linda Bancroft has retired.
Bancroft spent 17 years working for Beaver Lumber in Sioux Lookout and another 18 years working for Sioux Lookout Home Hardware Building Centre.
Home Hardware customers were invited to write well wishes for Bancroft last week and place them in a special keepsake jar for her.
Home Hardware staff organized a special retirement party for Bancroft last Saturday at the store, complete with her family, friends, customers and a cake prepared by Althea George.
"Just totally overwhelmed with all the support from customers and staff," Bancroft said of the day.
Store Owner Jamie Wisnoski brought in extra staff last Saturday for Bancroft's last day of work so she could spend as much time visiting with well-wishers as possible.
Wisnoski said she'll be missed, "Linda is an unbelievable employee. She's always at her shift five minutes before it starts, always 10 minutes after it's over… we can always count on her. She cares for her customers very much. She's always helped customers find the products they need… Linda's done a great job for us and we're really going to miss her."
Bancroft said she'll miss working at Home Hardware and her team of co-workers, "Oh yes, I definitely will. I'm going to miss, probably the customers most of all. Helping them. Some of them had projects and they didn't know how to proceed with them, or find a solution for something that they were trying to do. I was generally able to help most of them. I feel very proud of being able to help the customers solve their problems."
She said a lot of things have changed over the years such as building codes and new products coming out, however she said in some instances, older products and ways of doing things remain the best.
"I very much enjoyed working with the people and I am going to miss it," she reflected.
Asked about her future plans, she shared, "I'm going to take a few months off and try not to do a lot of things. I'm going to go on a trip to visit my siblings out west and come back and enjoy the summer.
"I will stay in Sioux Lookout. I'll probably take some sort of job or volunteer work on in the fall just to keep me out and about."