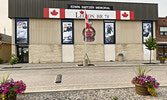 Legion to resume partial operations with easing restrictions
Reeti Meenakshi Rohilla -
Staff Writer
With loosened COVID-19 public health restrictions currently in place, the Edwin Switzer Memorial, Branch #78, of the Royal Canadian Legion in Sioux Lookout is looking forward to resuming some of its operations starting August 5, with hopes to fully reopen at a later date.
Legion President Kirk Drew said, "We have to open up eventually. Sooner or later, we are going to have to come up with the money…we have to open in order to pay bills."
Following provincial protocols, Drew said that upon reopening, the Legion will be allowed to operate at 25 percent capacity, which is confined to the area on its first floor. The building's second floor hall for larger events will remain closed until further notice.
He added, "We are anticipating that by the next stage…we'll be able to go to a 100 percent capacity like other provinces have. We have to open eventually because we have been closed for 17 months now."
Starting August 5, the Legion will return to welcoming people at the bar and providing opportunities to rent two sections on the first floor of the building in a limited capacity. Drew explained that the Legion is essentially divided into two portions with a 5000 sq. ft. hall for larger celebrations on the second floor, and two separate sections for smaller gatherings on the first floor.
To get a better sense of what community response may look like; Drew said that the Legion will initially be open from 4 p.m. to 9 p.m. on Thursdays, Fridays and Saturdays, with potential to extend their hours of operation to include Mondays, Tuesdays and Wednesdays as well.
"It's a non-profit organization. We usually make money from renting our hall, and the bar services also help for that. We have a number of people in town who have been gracious in giving donations, which is fantastic because it has helped us keep the building here without having to close it down," said Drew. He added that they also benefited from support provided by some provincial and federal grants that were made available, along with a grant from the Legion Command. "If we get opening, and get working, and get some money coming in, and are able to fully open going forward…then I think we will have no problem surviving, that's for sure," said Drew.
Drew said that even though the Legion has managed to stay afloat after a prolonged halt, they are now challenged to bring back lost employees. "The impact on operations was that we lost some employees. We are short now on our bartenders, because they have moved on over the course of the last 17 months. Some are coming back, but not all of them. We had to close the building down of course, which means that impacted the community because there was no place in town where you can have a large gathering anymore, unless it's in the Legion. With that being closed, we had to cancel weddings, we had to cancel all kinds of things, as other businesses had to do during the COVID time," said Drew.
Being dependent on volunteers to run the majority of their operations, Drew said that the Legion is always looking for people to join their team. Anyone who would like to rent space on the first floor, or those interested in volunteering, can contact the Legion at (807) 737-3232.
Drew thanked the Legion's Ladies Auxiliary for conducting fundraisers for the organization, along with support and generous donations received from the community. "It just shows how good people are in small towns when it comes to helping out other organizations," he said. Drew looks forward to a successful reopening, allowing members of the community to rent spaces at the Legion and stop by at the bar for some long-awaited socializing.