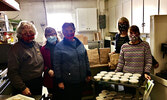 Legion Ladies Auxiliary organizes Chili Take-Out fundraiser
Reeti Meenakshi Rohilla -
Staff Writer
Members of the Legion Ladies Auxiliary in Sioux lookout organized a Chili Take-Out event on February 13 to help raise some funds to support their Legion.
Member of the Legion Ladies Auxiliary, Charron Sippola said, "It was just something that we wanted to do to keep our Legion alive and we're not sure when it's going to open. We usually do funerals and weddings, and banquets and things like that. We haven't done anything since last year. I think last kitchen rental was last February. That's a long time to have this building; we still have to pay for the heating and the maintenance of it. So we try to do out part as an auxiliary to help…we just like to keep that facility viable for the community for the future."
Sippola said that as a small executive, they decided that a pre-order Chili Take-Out was a great idea that only required some general preparation, with a small number of people in the kitchen. She mentioned that they decided to link the event with some Valentine spirit that weekend. Sippola added, "The dessert that we gave had chocolate hearts on it with white icing."
Sippola said, "We sold 100 orders at $10 each. We got some donations as well, which makes us quite happy. To us, it was a success. People liked the Chili and I'm actually thinking that maybe we should do another one in March sometime, just because it's fairly easy to organize and set it out." Considering it was pre-orders only, Sippola added that unfortunately they had to turn some people away.
Sippola said, "In the small communities, a lot of the Legions are closing up because they have lost members, their members are getting old, and they've got no-one to up keep and they've run out of money. They haven't gotten money to pay the bills, therefore they've closed up. It is sad to see these communities losing their Legions, and after the pandemic, it's interesting to see how many are still going to exist."
Sippola thanked Fresh Market Foods, as well as Polly and Adam McCarty, Marion Serson, Colleen Carroll, Sandra Lockhart, Vera Kameda-Lacroix and Terri Miller for helping make the event a success.