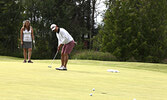 Legion golf tournament declared a success
Tim Brody - Editor
Last Saturday's Royal Canadian Legion, Edwin Switzer Memorial, Branch 78, Sioux Lookout golf tournament was a sellout with 20 teams of four players apiece taking part. Four more teams were placed on a waiting list for the 9 hole, 4 ball, best ball golf tournament, which took place on July 20 at the Sioux Lookout Golf and Curling Club. The day was capped off with a steak dinner at the Legion and the awarding of prizes.
Legion sports chairperson Cynthia Suprovich said the event was extremely successful, "We had a huge variety of people out here today. All different age groups… It's not a competitive event. It's for fun."
Suprovich said many experienced golfers invited less experienced players to join their teams in the spirit of the event.
The Legion hadn't held the golf tournament in many years, Suprovich said.
The tournament was open to the entire community, not just Legion members.
Every team that entered was entered into a prize draw.
Many participants were heard stating how much they enjoyed taking part in the event.
Suprovich thanked the golfers who took part in the tournament, businesses who donated prizes, and everyone who helped her run the event.