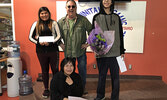 Learning takes centre stage at speech competition in Lac Seul
Tim Brody - Editor
Students at Waninitawingaang Memorial School in Kejick Bay and Obishikokaang Elementary School in Frenchman's Head had an opportunity to hone their research, writing, and speaking skills by participating in a speech competition earlier this spring.
Open to any grade 4 to 8 students who wished to participate, students could pick any topic that interested them.
"I think the big thing is that we want the kids to be empowered, to realize that at some point in your life you are going to have to speak in front of people and giving them tips and tricks on how to do that," Alisha Dasti-Hill, Waninitawingaang Memorial School principal, shared.
Placing first in the competition was Cole Trout, a grade 8 student at Waninitawingaang Memorial School, who presented a speech about why dogs are better than cats.
Placing second was Kaylee Kejick with her speech My Trip to Cuba.
Placing third was Keira Lawson with a speech about ability and mental health.
The speech competition was organized by teacher Sean Tudor.
"I think it was absolutely wonderful. We had a really nice range of topics," Dasti-Hill said of the competition.
Trout said he was surprised to take first place.
Asked about his winning speech he shared, "They're (dogs) usually more beneficial. They can have jobs that cats usually can't do alone. There are dogs that help people in wheelchairs. There's a few jobs that cats can do as well. I just think that dogs are a little better at them and easier to train."
Asked about presenting the speech to his fellow students and family members in attendance, he admitted, "I wasn't feeling super nervous in my mind, but my body was just freaking out on me."
He said he overcame that hurdle by focusing on people in the audience he trusted to try and maintain his cool.
Trout said competing in the speech contest was a lot of fun, adding he learned a lot of things about dogs he hadn't previously known.