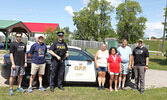 Law Enforcement Torch Run
Ontario Provincial Police officers in Sioux Lookout hosted the annual Law Enforcement Torch Run in the community on July 13, a fundraiser for Special Olympics Ontario programs.
Members of the public joined officers at the Town Beach for a two kilometre family-friendly walk, followed by a fundraising BBQ.
Brenda Linden, a Sioux Lookout Skating Club member who won a gold medal at the Special Olympics portion of the Futures competition in Kenora in February, helped lead the torch run.
From left: Constable Corey Raddatz, Sioux Lookout Mayor Doug Lawrance, Constable Eric Maecker, Jennifer Linden, Special Olympian Brenda Linden, Adi Linden and Constable Curtis Robb.