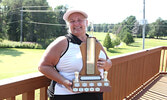 Ladies' Blueberry Open Golf Tournament growing in popularity
Tim Brody - Editor
Forty-two women participated in the annual Ladies' Blueberry Open Golf Tournament, held on August 3 at the Sioux Lookout Golf and Curling Club.
Tournament organizer Tanya Tekavcic was thrilled with the turnout, "Extremely happy. Twenty-three are from out of town. Kansas, Collingwood, Dryden, Kenora, Winnipeg, Calgary, Florida, Thunder Bay; Probably the highest we've had in 10 years."
Golfers said the weather was great and the course was in great shape, which resulted in several low scores being turned in during the 18 hole event.
"Very close. If you look at second flight it's very tight. It's just awesome," Tekavcic said.
Ladies Blueberry Open Golf Tournament champion Betty Ann Roy shot a personal best on the course, a 70 (-2).
Roy, who is from Sioux Lookout but lives in Winnipeg, said she enjoys the opportunity to get back to town to see family and friends during the Blueberry Festival."
Tekavcic said the tournament enjoyed great success from the local business community, "Stone Ashton & Wright has been a huge sponsor of the ladies tournament, The Lamplighter, Dennis Brock at Sioux Lookout Funeral Home."
Tekavcic thanked everyone who participated, volunteered, or sponsored the golf tournament, stating she is looking forward to next year.