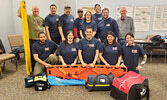 Lac Seul completes first response training
Jesse Bonello - Staff Writer
Lac Seul's Fire and Emergency Services Department completed first response training through the Ministry of Health, who say the training will help them provide immediate and on-scene care.
"The training covered simple, basic first aid concepts. It covered how to take care of yourself in light of this type of work, dealing with people and their injuries; it's called compassion fatigue. It also covered patient assessment, vital signs, and using the equipment that an ambulance might carry," said Mark Cudney, Regional Training Coordinator for Northwestern Ontario.
"It's the Northwest Regional Training Program. We go in to First Nations communities, it's sponsored by the Ministry of Health, and there's no charge to the First Nations communities by us coming in and doing this training. We provide them with equipment, and it's probably about $8000 worth of equipment we provide them, for them to use ongoing…There's a defibrillator, oxygen and trauma bags, there's backboards with straps and collars… There's a great deal of things they can have at their access to help people," he continued.
Cudney added that the department's capacity to provide care for the community has increased a lot because of the added defibrillator along with oxygen and trauma bags, which can help provide immediate comfort and care in any situations requiring oxygen.
Derek Ouellette, who was the department's trainer for the week-long training session, had nothing but good things to say about the team that participated in the training.
"It was a pleasure and honor to have this amazing opportunity to help them grow as a first response team. The effort set forth by all members in learning assessment skills, trauma skills, medical skills, wound care skills and the drive to continue with their medical education is a testament to their commitment to their community and will allow all First Nations communities to learn from this amazing team," he said.
Cudney shared that the training and resources are available for all First Nations communities that are located between Marathon and Manitoba.
"We just want to get the word out there for First Nations communities that, if they want any of this training, feel free to call us because we go from Marathon to Manitoba and then from Fort Severn to the top of the U.S border. The neat thing is the Ministry of Health recognizes the need in first response in First Nations communities and they recognize it takes a long time, sometimes, to get an ambulance there, so that's what this program is designed to do. It's to help provide immediate, on-scene, care," he explained.
Cudney added that they're hoping to put an end to that vehicle waiting period in Lac Seul.
"We're working with Lac Seul to get them a first response vehicle as well and get it tied in to the Ministry of Health Ambulance Network so they have constant communications with the Ambulance Communications Centre in Kenora," he concluded.