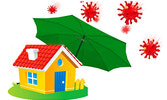 Kitchen Table Real Estate:
Sales and listings hit hard with COVID-19
Joseph Kateb
Sales and listings recorded over Canadian MLS systems dropped by 14.3 per cent over the second half of the month of March as the economic turmoil and stay-at-home mandates to slow the spread of the COVID-19 caused both buyers and sellers to retreat to the sidelines. Preliminary data from the first week in April suggest both sales and new listings were only about half of what would be normal for that time of the year.
The numbers illustrate just how hard the COVID-19 crisis has hit the real estate industry.
Many of the normal steps in the home buying process have been disrupted. Visits are becoming increasingly rare, mainly because of health reasons but also due to economic uncertainty. For health reasons the new norm is that prior to the visit, Realtors collect information about the health and recent travel records of the residents of the dwelling and the prospective buyers who are about to visit to plan accordingly.
To accommodate for social distancing, digital workarounds are gaining traction. Virtual home tours have become more common since social distancing; same thing for the option to make or accept an offer digitally. It may not be the same as signing the forms on your kitchen table with the realtor by your side, but digital signatures make the process possible. In home inspections, post inspection communication with the clients is done electronically.
The Ontario Real Estate Association put in place new clauses to adapt to the situation, the ''Covid-19 Clauses''. Realtors are to insert them in an offer to prepare buyers and seller in case the deal fails to close due to Covid-19. A failed transaction can set off a chain-reaction forcing other transactions to collapse even when buyers and sellers involved have fulfilled all obligations. Such unexpected last-minute developments will require contingency planning for all involved.
Royal LePage president and CEO Phil Soper said "The impact of COVID-19 on the Canadian economy has been swift and violent, with layoffs driving high levels of unemployment across the country," but he forecasts ''remarkably stable'' home prices during the pandemic. ''If COVID-19 stay-at-home restrictions are eased during the second quarter, house prices will finish the year up by one per cent year-over-year. If the restrictions continue through the summer, the negative economic impact is expected to drive home prices down by three per cent.''
Contact your Realtor to get the latest information as the situation regarding the effects of COVID-19 on Real Estate evolves rapidly.
The bottom line: Keep calm! If you are in real estate for the long term, try not to worry about a possible drop in the value of your home. Keep in mind that everyone needs to be housed. Historically, residential real estate has been less affected by crises than the stock market.