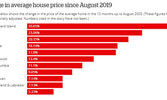 Kitchen Table Real Estate:
Housing sales, prices across Ontario hit record high
Joseph Kateb
Despite the moderating effects of the COVID-19 pandemic, home sales activity in Ontario reached yet another record high in September.
Improving economic conditions and extremely low borrowing costs sustained record-level sales in September, as we continued to account for the substantial amount of pent-up demand that resulted from the spring downturn.
New supply also showed signs of recovery compared to months ago during the height of the lockdown, but not to the same extent as sales activity. Demand is much stronger than available listings can support at the moment in Sioux Lookout.
More than ever inventory is down, but the demand is high. This may reflects the uncertainty of today's economy with regard to the COVID-19 environment in which we all live. Many people who intended on selling in 2020 are struggling with their decision, 'Do we sell our home now, or wait to see what 2021 brings?
Low inventory, high competition and low interest rates, have created a hot housing market where houses sell at record high prices not only in Sioux Lookout but, nationwide. For first time buyers, this is not a favorable time. As home prices keep soaring and lending restrictions get tighter, they're getting pushed out of the market.
But some economists think that when homeowners restart paying their mortgage after the mortgage deferral programs expire, they could lead to some defaults and potentially forced sales. This could bring headwinds to the housing markets and affect the prices.
There's a lot of potential challenges for this market as we head into fall. It is unclear to me that this market can be sustained going forward and it will be interesting to see what the spring market looks like.
Be safe. Be well. Be happy.