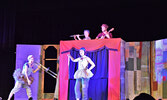 Kids Kaleidoscope Entertainment Series kicks off new season
Jesse Bonello - Staff Writer
The Sioux Lookout Kids Kaleidoscope Entertainment Series began a new season of showcasing performing arts to local and area children on Oct. 24.
The season premiere featured a performance of Ripopée by L'Aubergine.
Their website, www.laubergine.qc.ca, describes the show, "Four artists arrive in the night at the place where their show is to be presented. They fall asleep only to discover upon waking that their audience is already there. The show begins, but things get all mixed up: day-to-day life interferes with the performance, forcing it down a new, unpredictable path. In these artists' hands, everyday objects become tools to create a quirky universe, sometimes bordering on the absurd. The characters let their imaginations run wild to the point where they even lose sight of reality for a while. They dive head first into the unpredictable, with virtuosity guiding their fantasy."
The show featured dancing, music, and plenty of humour.
"It was really good. That was a fun show. It's always fun to start out with really energetic and fun things," said Dorothy Broderick, President of the Kids Kaleidoscope Entertainment Series.
When asked about this year's season, Broderick said she's excited to showcase a good, diverse lineup.
"It's going to be a good season. I think we have a really good lineup this year. We have the Maritime Marionettes and their performance of Molly and the Oak Island Treasure in November, so that'll be fun. That's a huge TV show so they're doing a play on that, and we've had the Maritime Marionettes a number of times. They're so amazing, they're such a great group, and we're really happy to have them.
"Next (in January) we have Samajam. This one is going to be our high energy, high octane, audience participation show. They're coming in, getting everyone up and moving around, and they're going to make a lot of noise. If you've had a lot of indoor recess, you're going to be glad to come to that one and burn the energy off.
"Then we have our February show, which is Chris McKhool. Chris McKhool is known for Fiddlefire. He is really well known around Canada, especially as a children's performer, but he's also an adult performer. He's so talented. He's been here a few times a long time ago, so we thought it's time to bring him back, let him present again, and have fun with him.
"Then we have Millan and Faye in March. They are presenting a fun take on the opera. This is a show I've really wanted here for a long time, so I'm really glad that it's happening this year for us. That will close out the season," said Broderick.
Starting this season, all shows are taking place inside the Sioux North High School cafetorium.
Broderick said every show is booked at Sioux North High School, but one date still remains up in the air.
"We are booked here for the entire season. The only show that is up in the air will be November 28, and that will be dependent on whether or not the teachers and the province are able to reach an agreement. We don't like crossing picket lines, so if they end up on strike then we will be moving to a different location," she said.
Prior to the opening performance Broderick announced that this will be her final season as the President of the Kids Kaleidoscope Entertainment Series. She's hoping that someone from the community will step up and take on the role.
"It's a really well-supported role. We have a good committee of people who come in, get me organized when I'm off track, and we all work together to make sure it runs smoothly. The President works closely with Canadian Heritage and the Ontario Arts Council for our grants. Everything is in place for the next year or two. People wouldn't be coming in having to worry about the next season. The next season is in place, we're actually planning it right now, so each season starts to get planned as the current season is going," she said.
"It's a difficult choice because I love arts, I love theatre, and I love coming to these shows. They get you energized and happy but, as life progresses, kids get older and a lot more things happen in life. The committee is set up to transition so that as your children age out you have the opportunity to pass that role on to someone whose children are coming into the shows, that way it always stays fresh, you always have fresh eyes, and you always have a fresh perspective on what's out there and what's available. For me it's really hard because I love being involved. It's difficult for me to let go, but it's something that I need to do to focus on my business, focus on where my children are going with their committees and groups, and let someone else come in," she explained.
Those interested in the role of Kids Kaleidoscope President can message Broderick directly on Facebook.
To stay up to date on Kids Kaleidoscope Entertainment Series shows, Broderick suggests joining their public Facebook group Kids Kaleidoscope Entertainment Series - Sioux Lookout.