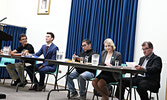 Kenora Riding candidates answer community's questions
Tim Brody - Editor
Five of the six Kenora Riding federal candidates were in Sioux Lookout last week to participate in the All Candidates' Forum organized by Sioux Lookout resident Anne Saltel and moderated by Dick MacKenzie.
Taking place on Oct. 8, at the Legion, candidates presented opening and closing remarks and responded to questions, drawn randomly, posed by the approximately 100 people in attendance.
Questions ranged from affordability of housing, to gun control, the economy, to electoral reform, climate change and the environment.
Candidates addressed many of the questions from both a local and national perspective.
Liberal Party candidate Bob Nault told those in attendance, "In this election we have a very clear choice, a choice between investments and cuts."
He shared, "When I came back to politics in 2015, it was clear that after a decade of the Harper Conservatives that this riding and this region was falling further and further behind. That's why we ran on a plan to invest in our middle class, and make our economy strong. And make our economy strong we did indeed. Our investments that we made were basically to families, communities and we've seen the historic two billion dollars' worth of investments in our riding."
Nault is running under a banner of Experience Matters this election, a point he put forward several times.
Speaking to the issue of affordable housing he said, "It's in my view, considered to be one of the most important topics that we've heard over the last number of years, since I got back in 2015. Every single municipality, every First Nation, has probably put housing as one of its top priorities."
He shared, "So our government put in place not only a minister, but a 10 year, 55 billion dollar program on strategic housing, the first of its kind in Canada." He added, "Most importantly in Sioux Lookout, we are now in the process and final stages waiting to hear whether we will get funding, federally, for a new homeless shelter. We've been working on this now for the last number of months, with KDSB, with the idea of dealing with the homeless. Dealing with marginalized people, dealing with people who have health issues, and making sure that we can find a solution for them."
Speaking to the topic of gun control he commented, "Hunting is a tradition in this riding. Ask people if they still have their gun to go hunting. It is our role to maintain the cultural and traditions of a riding like ours and part of the culture and tradition, for me and my father, was to go hunting and I still own my firearms and nobody in Ottawa called a Liberal came to take them, so can guarantee you, if you vote Liberal, you won't lose your firearms or your traditions, or your hunting because we are going to continue to maintain that because that's exactly what we believe in. Legitimate gun owners have a right to their firearms for hunting and that will be continued."
Nault said building up basic infrastructure is vital to local economies.
He said the Liberal Government has focused attention on connecting remote northern first nations to the provincial power grid and next term, if they form government; plan to help create all weather roads which he said will help grow the region economy.
Nault also shared, "It's true that we do have a climate crisis and in a region like ours, we see it more readily than most anyone, so we can no longer afford sort of half measures because future generations will pay the price of this inaction."
Green Party candidate Kirsi Ralko stated, "We have the most aggressive plan to tackle the climate crisis. We're calling it Mission Possible, and our goal is to end our dependence on fossil fuels, while we make a clean, reliable energy and electric transportation. This plan will help workers transition to new jobs and create even more jobs, including right here in the north." She added, "We have a fully costed plan to end the Federal deficit by 2024."
Speaking to the topic of affordable housing she said, that was an issue that drove her to want to run in this election. "The Green Party has a plan to appoint a minister of housing to strengthen the national housing strategy and to help promote collaboration amongst provincial ministers. We would increase the national housing co-investment fund and create a Canada co-op housing strategy." She added, "The Green Party has plans to increase affordability in many ways that I mentioned in my introduction, such as reducing the cost of prescription medication, reducing the cost of childcare, tuition; imagine the savings to your household if you did not have to put money aside for all of those things. We have proposals for new revenue streams to pay for these promises that don't involve increasing your income taxes; they do involve fair taxation for large corporations and the super wealthy."
NDP candidate Rudy Turtle shared, "This is an important election. People are worried about the cost of living, internet, phone bills, medicine, all add up for families who haven't got a real raise in years. We also have a major housing issue in this region. We don't have enough housing and the housing we do have is expensive and doesn't meet the demand here. We're also facing national issues like climate change and the challenge of reconciliation that both the Liberals and the Conservatives haven't done enough."
He said, "Housing is one of the priorities the NDP has identified and we will work with the province to see what we can do to make housing more affordable. In addition we also have a plan to retrofit houses so they are more cost efficient."
He said there is a backlog of housing on reserves. "It's not right that 15 or 20 people are living in a two bedroom house and this is something when I'm travelling up north that people have told me… something like that shouldn't be happening in Canada. It's dangerous, especially if there's a fire."
Turtle stated, "I represent Indigenous people and also non-indigenous people… we will invest in housing, through investing in housing we create jobs in retrofit of housing. We will invest in Indigenous communities, for example the water treatment centres."
Conservative Party candidate Eric Melillo said he is motivated to bring a new generation's voice to our region. Ralko expressed a similar sentiment.
"I believe first and foremost that an elected representative must put their constituents first. I believe that's not an approach we've seen from the Liberal candidate. This government is disconnected from our priorities here," he said.
"I am in support of firearms owners, First Nation communities, and everyone across the north struggling to get ahead. Our resource sector is facing quite uncertain times and young people and skilled labour are choosing to leave our region or not to come here, and of course all of our communities are facing barriers to their ability to diversify local economies, tax hikes and regulations, red tape that are killing investment and innovation in our region. I'm committed to delivering on the infrastructure projects and critical investments that are going to help you get ahead.
He commented on the matter of affordable housing, "There's no question the dream of home ownership is drifting further and further away from a lot of young Canadians, and of course for seniors as well, are finding it more difficult to find housing."
He stated, "We're bringing 30 year amortization periods to help lower monthly payments as well as making access to federal land available for development to help increase the supply of affordable housing across the country."
On the matter of gun control he rebuked Nault stating, "I think it's quite interesting Bob that you're able to say a Liberal government is not trying to take any firearms away when, quite frankly, you've brought forward a bill that does just that. A bill that plans to ban semi-automatic weapons… and of course they've also left the door open to a handgun ban. Our plan focuses on supporting law abiding gun owners across the region, but also cracking down on the gangs and crime and making sure that we have tougher sentences for those who have been found guilty of being involved in those activities and of course, making sure our police and law enforcement have the tools they need to crack down and address the real concerns that we're seeing in the cities and not attacking law abiding owners across our region."
On the topic of the economy he said, "We're going to take a measured approach to new spending, making sure that we're protecting our services, making sure that we're getting to a balanced budget, in a reasonable, socially responsible timeframe, and of course for our region specifically, we have to work with our job creators, work with small businesses and industry to ensure that there's opportunity in Northern Ontario for the young people that want to stay and people who have moved to our region."
Independent candidate Kelvin Boucher-Chicago commented, "The Nishnawbe people bring a lot of economy into the region, not only Sioux Lookout, but Red Lake, and all around our various areas, but they're still the forgotten people… the poorest of the poor."
"I'm here to get something done and help people that really need help," he said.
He stated, "Climate change; a lot of people don't really think is a good thing. I think it's a perfect tool to get rid of racialism. No matter what part of the country gets hurt or gets destroyed, everybody manages to come together to help one another. That's what Ottawa needs. Ottawa needs to be shaken up and shaken badly and I'm the type of guy that can shake things up and make things happen right away."
He went on to share, "We are losing our youth. They're 15, 16 years old out there doing needles and anything possible to get high. It's a crisis, but everybody thinks it's a homeless issue. It's not. If you channel the money directly to the people it's supposed to go to, I'm more than sure that they will do something a bit better with their money."
He said the region needs to diversify its economy by looking more into tourism, forestry and mining.
"Everybody wants to jump on the Indian bandwagon. You can't have just an Indian industry and expect to sponge off it. It does not work"
Sioux Lookout resident Anne Saltel organized the evening. She said she was pleased with how it went, "I was glad we had five of the six candidates. I thought the questions were diverse. It was great to hear the candidates speak on the fly."
Michael Di Pasquale of the People's Party of Canada was not in attendance.
The event was livestreamed by the Sioux Lookout Public Library. Anyone who missed the livestream or was not able to make it to the forum can view a recording of the forum on the library's YouTube channel at https://www.youtube.com/watch?v=_LRFi5O6jT4.