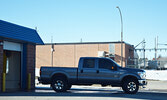 Keep your vehicle in tip top shape this spring
Tim Brody - Editor
As Sioux Lookout continues to transition into spring, making sure you're keeping your vehicle up to speed with that transition could save you an expensive trip to your mechanic down the road.
Derrick Sawdo, Sales Manager at Dingwall Motors reminds, "If you have studded winter tires, they have to be off by May 31 in our parts."
He added, "I would say sometime in April or by the end of April you're probably going to want your winter tires off."
Rick Jaworski, a licenced mechanic at Aztak Auto stated, "Usually for winter tires themselves without studs, you want to change them when the temperature stays consistently above seven degrees. Of course, with maintenance now a days, it's all really following what the manufacturer recommends."
Sawdo recommends when people change their tires, they get an oil change done and get their fluids checked. He said that would also be a good time to have your brakes checked.
"Especially in Sioux Lookout where you're not driving long distances, your car doesn't heat up enough to disperse all of the condensation in the oil, so a lot of the time you have to do oil changes quite a few more times before your car tells you to do it… We've seen lots of vehicles come in in the middle of the winter where we open the oil pan and there's just ice. There's no oil coming out at all, just because of that short trip here and there… We like to push oil changes every 5000 (kilometres),"
Jaworski said.
As the snow melts and temperatures continue to rise, many people may already be dreaming of getting out on the water this summer.
"Getting your boats ready for the new year, this would be the time to pull them out, get them untarped, if they are tarped up. Make sure your batteries are up to charge. If they don't seem like they're getting a charge, it's a good time to check them. Nothing worse than hitting the lake on May long (weekend), you're all excited to go, and your boat doesn't even start because your battery is no good," Sawdo recommended.
Another thing he recommend people check, "Air pressure on the tires of your trailer is real important. It's something that a lot of people forget, and even the condition of your tires. So, what we've noticed in here in the past few years… generally speaking, the inside of your tires on a trailer are what wear down, and you don't notice because you can't see the inside very well."
Jaworski also asked that, as we continue to transition into spring, people keep an eye out for motorcycles, which may soon start to share area roadways.
Tuesday, April 5, 2022
A reminder from the Municipality of Sioux Lookout that fire permits are required for certain types of burning, starting April 1, the official start date of fire season in our region...