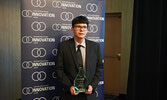 Kaden Kanakakeesic looking to reignite blacksmithing passion, knife making business
Jesse Bonello - Staff Writer
Sioux Lookout self-made blacksmith Kaden Kanakakeesic, who forges specialty knives in his own Sioux Knives shop, has been on a recovery journey since June after a fire broke out in his shop, causing him to sustain serious burns.
The accident occurred just two weeks after Kanakakeesic, 20, was presented with the Young Innovator of the Year Award at the 11th annual RBC Innovation awards in Thunder Bay on May 30.
"He went to the burn unit at Sunnybrook, which is the best in Canada, and they were amazing. He liked it there… He was there for 16 days," Debbie Kakagamic, Kanakakeesic's mother, told the Bulletin.
"He had 20 per cent third-degree burns on his body. He's had surgeries. A lot of the damage is under his right arm and his chest. Then they had to do skin grafts, which is a huge chunk off of his right leg and a piece off his back," she added.
Now, just nine months later, Kanakakeesic is able to move a bit better and work in his shop, but he said pain causes him to take breaks for days at a time.
"I'm still doing physio and I'm still wearing my compression garments. It still hurts to move, but I can move a bit better now," said Kanakakeesic.
"It's difficult to operate right now because I often have to take breaks, and sometimes the breaks can last up to a couple of days because the nerve pain can be pretty intense at times.
"The effects from the accident will probably be with me for the rest of my life. My right (side) is never going to feel the same… The nerve pain should stop in another year or so," he said.
Following the fire, the Northwestern Innovation Centre, which is a not-for-profit-organization in Thunder Bay and Kenora that acts as a support system for innovation, started a GoFundMe page to help assist Kanakakeesic in rebuilding his shop. The GoFundMe campaign raised just over $6700, which helped Kanakakeesic purchase a power hammer. He said the business has been on hold as he works to get his power hammer going, which he anticipates happening in the near future.
"The support was unexpected. It started out with me asking around for business loans, and then the Northwest Innovation Centre told me they would help me get my (power) hammer and start up a fundraiser. That was very unexpected, but I'm very grateful for it," he said.
"We got a power hammer, but it's from 1933 and still needs a bit of work but, for the most part, things are going well… I've been on hold. I got a part-time job at the daycare for a while, where I'm still at, and it's (Sioux Knives) still kind of on hold until I can get my power hammer running, which should be another month or two," he explained.
Along with purchasing a new power hammer, Kanakakeesic revamped his shop to make it a safer environment, especially since he's working with temperatures over 1500 degrees Fahrenheit.
"The major thing I did was get some more fire equipment, better fire-resistant clothing, a fire extinguisher, and we re-did the electrical work and wiring, which was expensive. I replaced some tools like my work benches. I had wooden ones before, but now I'm using steel ones. Just things like that to try and make it less flammable," he said.
"My process would first start with heating some steel. Typically it has to get around 1800 to 2100 degrees Fahrenheit. Once it's hot, I use a hammer and forge it to shape over an anvil using various hammers. This new tool I bought, the power hammer, will mechanically hammer it for me," he added.
On March 6, Shaw Spotlight released a mini-documentary called Mending Steel, which featured Kanakakeesic's journey to becoming a blacksmith, his accident, and his current comeback. For Kanakakeesic, it was a way to express his appreciation for the support he's received throughout his healing journey.
"They tried to do the video just after I won the award, but they found out I got burned so they decided to put it off for a few months. We were going to do it in September, but I decided to put it off until recently… For me, it was a way I could properly express gratitude towards the community for helping pay for the hammer and such, and that's why I wanted to do it," he said.
As he gears up to get his power hammer and knife business operational, Kanakakeesic is excited to get back to what he loves while using new information and new tools this time around.
"It's scary, but it's pretty exciting too. I'm excited to try again. I have new tools this time, I've learned a lot in the process, and I spent much of my time off work studying new tools, new things, new methods, new materials, and that sort of thing," he said.
He said, in the near future, he's planning to launch a Facebook page for his business and provide more of a social media presence.
See his mini documentary, Mending Steel, below.