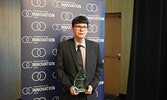 Kaden Kanakakeesic awarded Young Innovator of the Year, recovering from workshop fire
Jesse Bonello - Staff Writer
Kaden Kanakakeesic, 19, is a self-taught blacksmith working out of his Sioux Knives shop in Sioux Lookout forging specialty knives. He was presented with the Young Innovator of the Year Award at the 11th annual RBC Innovation awards in Thunder Bay on May 30.
"He was nominated by the Northwestern Innovation Centre. They had met him already through his knife business, so they had been here at one time. There was around five or six other youth nominated, and Kaden was the youngest one… I brought him there to Thunder Bay, and we didn't know until they called his name," said Debbie Kakagamic, Kanakakeesic's mother, who spoke to The Bulletin on her son's behalf.
"It was amazing. I was super excited… We were sitting towards the back of the room and everybody turned around and was clapping. It was so exciting because either one of us never expected it because the other nominees were fantastic, so it was a really exciting moment… His father and I are both extremely proud, and never thought that he would achieve the level of success he's reaching," she added.
Just two weeks after winning the award, on June 13, Kanakakeesic was in his Sioux Knives shop when a fire broke out. He sustained serious burns and was transported to the Sunnybrook Hospital Ross Tilley Burn Centre in Toronto, where he received treatment for over two weeks. His shop, tools, and some of his projects also received major damage.
"He went to the burn unit at Sunnybrook, which is the best in Canada, and they were amazing. He liked it there… He was there for 16 days," said Kakagamic.
"He had 20 per cent third-degree burns on his body. He's had surgeries. A lot of the damage is under his right arm and his chest. Then they had to do skin grafts, which is a huge chunk off of his right leg and a piece off his back," she added.
"While Kaden is expected to recover, his shop received significant damage. Kaden's tools, many of which are homemade, and started projects are now lost," said Allyson Pele, Manager at the Northwest Business Centre.
Following the fire, the Northwestern Innovation Centre, which is a not-for-profit-organization in Thunder Bay and Kenora that acts as a support system for innovation, started a GoFundMe page to help assist Kanakakeesic in rebuilding his shop.
"We found out about the incident through our Kenora office, and other local innovators had mentioned what happened. That's when we jumped on and set up the GoFundMe account in his honour to help him rebuild his shop," said James Ellard, marketing and branding specialist for the Northwestern Innovation Centre.
Kakagamic said she was amazed when the Northwestern Innovation Centre told her they wanted to set up the GoFundMe page for her son.
"We were quite surprised because it wasn't family, friends, or one of us who started it. It was somebody else who had a keen interest in Kaden and what he can do. It was the Northwestern Ontario Innovation Centre and they contacted me by email when I was in Toronto. They wanted to set this all up for him, and I thought it was amazing. I never expected it," she said.
In just under a month, Kanakakeesic's GoFundMe page has raised just over $6000, with a goal of raising $7500. Kakagamic explained that the plan is to completely redo the shop to not only restore the business, but to also make it a safer environment.
"The GoFundMe right now is at 6300 dollars, and I think the goal is set for 7500 dollars. We've been doing a lot of talking since this accident has happened and we're hoping to make it as safe of an environment as possible. We want to change the layout of his shop and completely redo everything. No wood work benches, it will all be steel this time," she shared.
"His arm is badly injured and he has to use his arm a lot to do hammering, forging and knife making so, with the money that he's raised already, he's looking at getting a power-hammer because he can't lift his arm up and swing the heavy hammers now. It's something he has already dreamed of having, so I think that's the big major purchase he would make other than fixing up the shop," she added.
Kanakakeesic returned home from Sunnybrook Hospital at the end of June, but his healing journey is far from over. He will need rehabilitation to learn how to use his arm, along with wearing various compression clothing for an entire year.
"There are some other long-term medical things that have to happen. He's been measured already, but he'll have to wear compression vest, sleeves, and gloves. He'll also have to wear one for his leg, which is the donor site from his graft. He has to wear that 23 hours a day for one year. Then, starting next week, he goes to rehab to be able to learn how to use his arm," explained Kakagamic.
"I'm just happy my boy's alive and he's home."
To support Kanakakeesic and the rebuilding of his shop, visit www.gofundme.com/f/support-kaden-to-rebuild-his-shop.