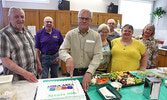 June proclaimed Seniors' Month in Sioux Lookout
Tim Brody - Editor
June is being recognized as Seniors' Month provincially and on June 1, Sioux Lookout Mayor Doug Lawrance proclaimed June as Seniors' Month in the Municipality of Sioux Lookout.
Lawrance stated in his proclamation that, "Seniors have contributed and continue to contribute immensely to the life and vibrancy of this community" adding that, "Seniors continue to serve as leaders, mentors, volunteers and important and active members of this community."
An open house was held at the Sioux Area Seniors Activity Centre on June 1 to celebrate Seniors' Month and share information on the nearly 30 programs and activities taking place at the senior centre between June 1 and the end of April.
Programing for 2022-2023 includes coffee club three times a week, card groups including Bridge, 500 and Crib, games afternoons, a lecture series that includes a dietitian, kinesiologist, massage therapist, foot care, specialist and information about wills, classes on topics such as flower arranging, jewelry making, painting, and recording your life, and group activities including a book club.
Two Blueberry Festival events are being planned as well as a picnic in July.
Anyone 50 plus can become a member of the seniors centre said Karen Boyko, who has been organizing the programming at the seniors centre.
She advised that the membership fee for 2022-2023 is $20 for the year.
The seniors centre currently has approximately 160 members.
Anyone interested in learning more about joining the seniors centre or its programs and activities can drop by the centre at 66 Front Street to learn more or contact Boyko at [email protected].

Tuesday, June 14, 2022
A new program at the Sioux Lookout Golf and Curling Club (SLGCC) hopes to encourage youth six to 16 to hit the links...