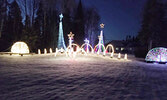 Judy Henrickson lighting up Christmas
Reeti Meenakshi Rohilla - Staff Writer
With a passion for Christmas and lighting up the holiday season, Sioux Lookout resident Judy Henrickson is inviting the community to come and enjoy her joyous display.
Henrickson shared, "It brings so much joy. Music and lights just go together."
Henrickson has been setting up her impressive display for several years now, usually every other year, inviting the community to her 698 Drayton Road home to take in the show.
"It just makes them happy. I get questioned every year if the lights are going up or not. It puts smiles on people's faces," she said of feedback she has received from the community.
Henrickson said she plans to have this year's display ready for people to view the first week of December, adding, "I have the lights up already and I'm just working on the last song. I'm reprogramming some of the songs because I added some different elements to the display."
She explained, "To reprogram them probably took me about 20 hours per song and I have six songs."
Henrickson has added five new elements for this year. "The new elements I added are three shooting stars, a couple of deer; I've added a fourth 19-foot arch over my driveway. I added a blue and white wrapped tree and I changed some of the other elements around."
A sign at the end of her driveway lets visitors know what channel they should tune their radio to for the music accompanying the display.
Henrickson decorated her yard with help from her bother-in-law, Dave Terry, building and installing the elements. Her brother Randy Henrickson helps keep the yard plowed for people to park and enjoy the display, and to avoid blocking traffic on Drayton Road.
"I'm going to start December the first and they're going to run from 5 to 10 o'clock at night and I'm going to run it right through January, probably January the seventh."
Henrickson shared that she has been a volunteer at the Sioux Looks Out For Paws animal rescue for over three years now and plans to give any donations received from people stopping by to view her display to the animal rescue. "I do have a donation box in the form of a large candy cane… So if they would like to make a donation, that would be lovely," she said.
Henrickson typically organizes the display on alternate years. She said, "I don't do it every year because it is such a chore to put everything up and wire it. So, actually I'm a year behind, it's been three years now." She shared that the inspiration for her display sparked after watching an episode of Oprah. "Back in 1994, I watched Oprah, and she had the most beautiful Christmas display… a fellow in the States put up using these exact same controllers." She shared that it took her a couple of years before she actually started to act on it, "and once I started I couldn't stop. It's just too much fun."
Henrickson started with a single 32-ft tree, with one light and a controller. "One led to two, led to three, led to nine. So I'm on to nine controllers now. So each year I just have it in me to keep adding-on to the display. It's just my nature." Moreover, she shared that this year's display could be a concluding year for her. "It might be my last year because it takes two months for me to get it all up and running, September and October. It might be my last year, depends on how I feel down the road."
Henrickson looks forward to a successful and fun display this year as well. "It's a great time period because it is getting people out of the house and the children love it, gives them some fresh air, and they're all in their own bubble." She suggests people turn their vehicle lights off when they come into the parking lot to better enjoy the display. Henrickson welcomes people to stay as long as they wish and visit as often as they want. "Pack up your kids, bring them out, enjoy the show, turn your vehicle lights off and come as often as you want. Merry Christmas!"
she concluded.