John Madsen named HNO Coach of the Year
Tim Brody - Editor
Sioux Lookout's John Madsen has been named Hockey Northwestern Ontario's (HNO) Coach of the Year.
Madsen, who coached the U9 Sioux Storm in the Sioux Lookout Minor Hockey Association (SLMHA) last season, said while honoured and humbled to receive the award, he views it as a recognition of the effort put forward by all of SLMHA's coaches and volunteers.
"I'm pleased to know that I was a positive part of a few kids' hockey lives this season," he said.
Parents Tiffany Thompson and Yoko Schreiber said Madsen definitely made a positive impact on their kids.
"He can usually be seen on the bench during games with his whiteboard helping players of all skill levels either get their first goal of the season or improve on a skill," Thompson said, adding, "He is very dedicated to the kids and to minor hockey."
Schreiber shared, "In a sport where promoting/rewarding the most aggressive player or the greatest scorer is common place, it was refreshing to hear him tell the team that "the most effective player on the team is not always the one scoring goals" and similar advice that encourages positional play and fosters players supporting each other, passing the puck, playing defense, etc. He is calm, kind and professional, and has excellent rapport with the kids. He is excellent at providing individualized suggestions to each player in a supportive manner and with incredible insight, for example, encouraging my son to take time and be patient with the puck by reassuring him he isn't under pressure. I think this is a wonderful example that a great coach doesn't just voice instructions, but understands the factors that influence a player's decision-making on the ice and supports them on that."
Madsen has been a coach in SLMHA since 2017.
"My coaching philosophy is structured around building relationships with the kids, creating a positive environment, getting to know them at a hockey level, and setting realistic goals for their development," Madsen said.
Madsen said the recognition came as a big surprise to him.
He received the award on June 11 in Thunder Bay from Brian Patterson HNO Vice President / West Zone 3 Director, prior to HNO's AGM.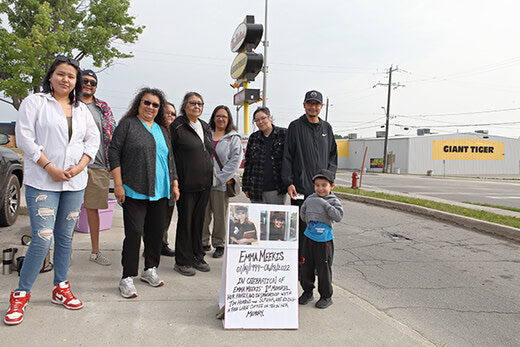 Wednesday, June 21, 2023
The family of the late Emma Meekis are thanking everyone who visited Tim Hortons in Sioux Lookout on June 18 to help celebrate Emma's life...