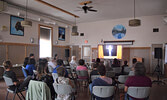 ImagineNative hosts film and video workshop tour in Sioux Lookout
Jesse Bonello - Staff Writer
Sioux Lookout and area residents had the opportunity to learn from filmmakers and animators during a video-making workshop, which was held from July 22 to 25.
The tour was hosted by imagineNative. Their website describes the organization, "We are an Indigenous-run organisation located on the territory of the Mississaugas of the Credit, the Anishinaabe, the Haudenosaunee, and the Huron-Wendat nations… imagineNATIVE presents the world's largest Indigenous film festival, a national Tour focused on reconciliation, as well as the Institute among many other initiatives throughout the year. imagineNATIVE is one of the leading arts organisations in Canada and won the highly competitive and prestigious Premier's Award for Excellence in the Arts (Ontario) in 2018 (finalist in 2009 and 2015)."
During the workshop, participants learned animating and story development from workshop facilitators along with Nadine Arpin, a Sioux Lookout filmmaker.
"This was an imagineNative initiative, so ImagineNative is celebrating their 20th year in existence and they have expanded from a film festival to an actual institution where they are trying to encourage and promote film development. This is an example of one of many workshops going on across Canada and they decided to pick Sioux Lookout, which is wonderful. I was a third facilitator and I helped mentor the students. It was geared for youth but it was open to adults as well, so this was a week-long project starting on Monday (July 22)," said Nadine Arpin.
"Terril Calder is the animator who facilitated all the technical aspects and Darlene Naponse and myself focused more on story development and we facilitated the progression of our participants… We had four films that were created through this four-day process," she added.
On July 26, participants unveiled their creations during a film screening at the Nishnawbe-Gamik Friendship Centre. Approximately 25 community members watched the four short animated films that were created during the workshop.
Those who completed films shared that they had a great experience learning and creating, and they all agreed that they want to continue filmmaking.
"It was amazing because we had so many great people working with us. We had professional filmmakers there with us, and it was fun… I want to keep making more films," said Kanaysah Kakegamic, workshop participant.
"I had a good time, and now I want to keep making films… It was scary having all these people watch my film, but it felt really good after," said Lanneah Kakegamic, workshop participant.
"The workshop was really fun. I had no idea what to expect. It was the first time I've ever animated anything, but I've always been interested… It was a lot of fun, and they were great people to learn from," shared Janine Arpin.
"I wasn't sure how it was going to turn out, but it turned out really well and I'm very happy with it. My next production is in the works already," she added.
"I enjoyed it a lot… It was a really great experience. This is something that I want to keep doing," said Kimiwan Achneepineskum, workshop participant.
"It was really nerve-racking because I didn't know how they were going to react, but it felt nice after," she added.
Both Calder and Naponse, who facilitated the workshop, shared that, while they enjoy helping participants throughout the workshops, they try to be hands off and allow the learners to do as much as possible. They both agreed that the local screening was a great opportunity for the workers to share their films.
"We're really hands off. We'll give them the tools as they need to know and build upon the knowledge, so all of the films are them. They edited them, did the audio, they've done all of it and it was great to see them put it on display during the screening… They all have a great sense of all the equipment and the lack of fear now that they can make more," said Calder.
"It was really special. When I was learning how to make films there was a lot of people who helped me, so I feel like it's part of giving back… It was really special that they were able to share their films with the community. I saw the light in them that they were really proud of what they did," said Naponse, who is also a filmmaker.
Nadine Arpin said imagineNative will be providing participants with more opportunities to display their films.
"The other exciting thing about these films is they'll be taken to imagineNative, so they will be part of a much larger Lightbox downtown Toronto screening, which is really awesome. They've been doing work across the country, so the collection of short films will be part of a larger program," said Arpin.
For more information on imagineNative, visit their website www.imaginenative.org.