Hudson residents express concern over proposed harvesting near community
Tim Brody - Editor
Residents of Hudson are concerned that proposed harvesting outlined in a "Review of Proposed Operations for the Lac Seul Forest 2024 -2034 Forest Management Plan" cut a little too close to home.
Hudson resident Nicole Rose shared a letter on the Hudson, Ontario Facebook page, stating her concerns and encouraged other residents to share their concerns.
"I am writing today with an urgent request to stop plans to deforest the community recreation areas around the Mill Road, Johnny Lucs Road, and Mud Lake, in Hudson. As a resident of this community, I strongly protest against this ongoing destruction of an area that is so close in proximity to our community and is held even closer to the hearts of our community members," she wrote.
"These areas are continually in use and are an important part of our recreational lives as well as places that hold dear memories for us Hudsonites, from the youngest to our eldest of residents. Furthermore, the areas serve as a space for outdoor activities such as a safe place to walk in summer with no threat of traffic, and snowshoeing in the winter, and camping in all seasons," she continued.
"It's such an important area for us. Losing the area would be devastating to Hudson residents," Rose reiterated by phone.
"Aside from the negative impact on our community, deforestation in this area would result in the loss of several diverse species of trees, flora and fauna. This would, in turn, have a negative impact on our environment and the delicate ecological balance in the area," she further wrote.
Bob Starratt, another Hudson resident, shared, "This area is the closest comparison we have to your Cedar Bay in Sioux as far as recreational use. There's everything from dog walking to snowshoeing, cross-country skiing, summer walking, hiking, bike riding through there."
He added, "It's not just going to be an aesthetic change with not seeing any trees, it makes it more windy as well," he said of the area of planned harvest, which he said is referred to commonly in Hudson as "the back road", or Goodie Lake Road.
"It's a massive impact and this is not just for a few years, we're looking at probably 40 years before this forest grows enough to recreate in," he said.
Starratt said the 10 year forest management plant would come into effect April 1 2024.
Hudson resident Krista Storey has created a template letter and taken it door to door in Hudson, asking people to read and sign it.
She also put out a petition against the proposed harvesting activity at the Lost Lake Drop In Centre and at 5 Mile Corner.
She shared with The Bulletin in an Open Letter, "I am writing to express my opposition to the planned harvesting of trees in the Municipal boundaries of Hudson, extending to Frenchman's Head Corner. Please note that I am not opposed to the planned harvest per se, but respectfully request that the location of the harvest be moved outside of Municipal Boundaries, as it will negatively impact or prohibit the execution of the following activities that local residents, their family members and tourists who visit our region engage in for enjoyment, promotion of metal wellbeing, recreation and more."
She clarified, "I'm not opposed to forestry or harvesting by any means, just in this instance it's too close to town and it's taking away one of our very last remaining enjoyable activities. We have so little in Hudson, it's really disheartening to thing they could take away this."
Documentation on the Ontario Ministry of Natural Resources and Forestry (MNRF) website (https://bit.ly/3KEscWZ) informs that, "This review is being held as part of the detailed planning of operations for the ten-year period of the 2024 – 2034 Forest Management Plan (FMP) for the Lac Seul Forest.
"The FMP takes approximately three years to complete. During this time, five formal opportunities for public consultation and First Nation and Métis community involvement and consultation are provided. "The second opportunity (Stage Two) for this FMP occurred on November 23, 2022 when the public was invited to review and comment on the proposed Long-Term Management Direction (LTMD)."
The Ministry shared that, "This 'Stage Three' notice is:
• To invite you to review and comment on
- the planned areas for harvest, renewal and tending operations for the 10-year period of the plan;
- the proposed corridors for new primary and branch roads for the 10-year period of the plan;
- the proposed operational road boundaries for the 10-year period of the plan; and
• To request contributions to the background information to be used in planning."
The Ministry further informed that, "The detailed proposed operations can be made available electronically for review and comment by contacting the Obishikokaang Resources Corporation office and/or MNRF Sioux Lookout Work Centre contact listed below, during normal office hours for a period of 30 days (March 6, 2023 to April 6, 2023). Comments on the proposed operations for the Lac Seul Forest must be received by Kevin Pruys of the planning team at the MNRF Sioux Lookout Work Centre Office, by April 6, 2023."
The Ministry shared that Pruys can be contacted at:
Kevin Pruys, R.P.F., Management Forester, Ministry of Natural Resources and Forestry, Red Lake-Sioux Lookout District, Sioux Lookout Work Centre, P.O. Box 309, Sioux Lookout, ON P8T 1A6, tel: 807-738-4937, e-mail: [email protected].
Two in-person information forums were held at the Lac Seul Events Centre on March 6 and the Legion in Sioux Lookout on March 7.
"The tentative scheduled date for submission of the draft FMP is July 2023. There will be two more formal opportunities for you to be involved," the Ministry shared.
These stages are listed and tentatively scheduled as follows:
Stage Four - Review of Draft FMP July 2023
Stage Five - Inspection of the MNRF-Approved FMP November 2023
Anyone who would like to be added to a mailing list to be notified of public involvement opportunities, is invited to contact Kevin Pruys at 807-738-4937 or [email protected].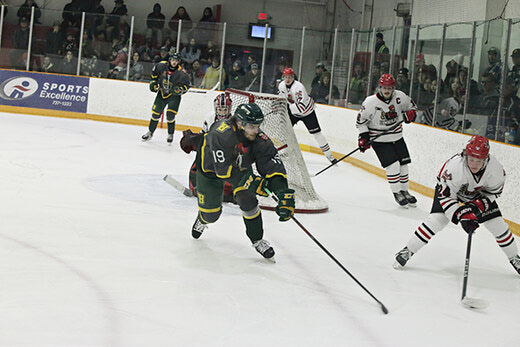 Tuesday, April 4, 2023
The Superior International Junior Hockey League playoff series between the Sioux Lookout Bombers and Wisconsin Lumberjacks has come down to a Game 7, winner take all match, scheduled for tonight (April 5) at the Hangar.