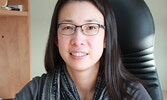 Health Canada authorizes use of Comirnaty COVID-19 vaccine in children 5 to 11 years of age
Tim Brody -
Editor
On Nov. 19, Health Canada authorized the use of the Pfizer-BioNTech Comirnaty COVID-19 vaccine in children 5 to 11 years of age, the first COVID-19 vaccine authorized in Canada for use in this age group.
"After a thorough and independent scientific review of the evidence, the Department has determined that the benefits of this vaccine for children between 5 and 11 years of age outweigh the risks," Health Canada shared in a Nov. 19 statement.
The National Advisory Committee on Immunization (NACI) is recommending, "A complete series of the Pfizer-BioNTech COVID-19 vaccine (10 mcg) may be offered to children 5-11 years of age who do not have contraindications to the vaccine, with a dosing interval of at least 8 weeks between the first and second dose."
"The clinical trial showed that the immune response in children 5 to 11 years of age was comparable to the immune response in people 16 to 25 years of age. The vaccine was 90.7% effective at preventing COVID-19 in children 5 to 11 years of age and no serious side effects were identified," Health Canada statement further stated.
According to Health Canada "Health Canada and the Public Health Agency of Canada will continue to closely monitor the safety of this vaccine, and will take action if any safety concerns are identified."
Locally, the Northwestern Health Unit shared in a Nov. 19 press release that it is pleased that Health Canada has approved the COVID-19 vaccine for children.
NWHU says their clinics will be ready when the vaccine arrives in the region from the Ontario Ministry of Health.
NWHU is expecting their clinics for 5-11 year olds to begin next week. As of Nov. 22, appointments for those aged 5-11 can be booked into clinics on Nov. 29 or later at https://www2.nwhu.on.ca/covid-19/booking-a-covid-19-vaccine-appointment/.
More information on the vaccine and upcoming clinics can be found at www.nwhu.on.ca/covid19.
NWHU also reported on Nov. 19 that the region has reached a major milestone, with 90 percent of the area's residents aged 12 and older having received at least one dose of the COVID-19 vaccine. Over 130,000 doses of the vaccine have been given in the region.
"I would like to thank residents who have chosen to get vaccinated to protect themselves and others from COVID-19. You are helping our local businesses to stay open, keeping our students in school, and are preventing our local hospitals from being overwhelmed with cases of the virus," said Dr. Kit Young Hoon, Medical Officer of Health at NWHU. "This impressive milestone could not have been achieved without the dedication and hard work of NWHU clinic staff and volunteers, pharmacists, and health care providers. Thank you to everyone who has played a role in the COVID-19 vaccination efforts so far".
Vaccine clinics continue to have availability across the region. "We are still offering first and second doses to anyone who would like one. If you are unsure about getting the vaccine, I encourage you to talk about it with a health care provider," Dr. Young Hoon said.
As of Nov. 22, NWHU was reporting 14 active COVID-19 cases in its catchment area.