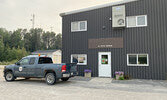 Hazardous or Special Waste Collection Day scheduled for September 18
Reeti Meenakshi Rohilla -
Staff Writer
The Municipality of Sioux Lookout is sharing an early reminder for people to mark September 18 on their calendars as the Municipal Hazardous or Special Waste Collection Day, which will be held between 8 a.m. and 3 p.m., at the Public Works Garage, located at 41 Fifth Avenue.
Municipal Clerk Brian P. MacKinnon shared that this is the only opportunity for local residents to safely dispose of their household hazardous or special waste. "Many of the items that are considered special or hazardous waste can have damaging impacts on the environment if they are improperly disposed," MacKinnon added. He shared that there was a total of 7,431 kilograms of hazardous or special waste collected during last year's event.
"We have been receiving some questions as to when the event is occurring this year, so as soon as we had the date confirmed, we decided to publicize that information. We will continue to update/remind the public between now and the event in September," MacKinnon shared. People are advised to follow COVID-19 precautions and guidelines in place at the time.
The full list of residential household hazardous waste items that can be dropped off for disposal can be found at https://bit.ly/3eS4m9C.