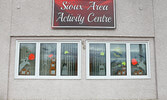 Halloween display
Sioux Area Seniors Activity Centre members Charron Sippola, Sandra Lockhart and Joan Kydd created this Halloween themed display on the Front Street facing windows of the senior centre last week.
"I just thought we need some Halloween stuff, and I thought, we also need masks, so I made all the pumpkins wear masks," Sippola said of her design.
Sippola's next window display will honour Remembrance Day.