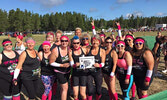 Gruelmasters compete at Mud Hero Manitoba for second straight year
Jesse Bonello - Staff Writer
There was plenty of mud, tough obstacles, and warm weather, but a group of Sioux Lookout women persevered to complete Mud Hero Manitoba for the second straight year on July 27.
Approximately 15 Gruelmaster Fitness members, with the team name of Gruelmasters Girls, completed Mud Hero's six kilometre running course, which featured 18 obstacles. An Ultra ten kilometre course was also offered at the event. It features five additional obstacles, and it's a qualifying event for the Obstacle Course Racing World Championships.
Gruelmaster Fitness is a women's fitness program run in Sioux Lookout by Mona Daignault-Rice.
"It was the first time, last year, that all of us Gruelmasters girls got together to do this. There were about a dozen of us last year, and this year we had about 15 of us," said Gruelmaster Fitness member Cherie Coulombe.
This year's Mud Hero Manitoba took place at Hill Top Resort in Beaconia, Manitoba. Participants shared that this year's run was muddier then last year's, causing participants to swim through it at certain points.
"It was fun. It was a little bit different this year. It was muddier," said Gruelmaster Fitness member Michelle Diston.
"It was a different venue, muddier, and there were more muddy events in the course because you're climbing over, under, and through obstacles. I can't say I've ever swam in mud before. We were totally swimming in the mud because the mud was coming up to our upper thighs… It was hot, it was 33 degrees Celsius, so we were floating through the mud streams to cool off our skin," said Coulombe.
"There were some short walls that you had to get over either by jumping or climbing over them. There were a lot of mud obstacles like trenches of mud up to your mid-thigh. Eventually, after the second one, we just started swimming because it was easier to get through by swimming… One of the walls at the end of the race was actually in a mud pit, so it was really tough to jump up and catch the top because you're already in mud, so we ended up helping one another," said Gruelmaster Fitness member, and first time Mud Hero participant, Elizabeth Seguin.
Diston's husband, Andy Schardt, also participated in the Mud Hero course. He shared that he plans on completing it again in the future.
"I thoroughly enjoyed it and it's certainly challenging… The nice thing about Mud Hero is you can challenge yourself at different levels. You choose how fast you want to do the run and you choose which obstacles you want to try," said Schardt.
"I think I'll do it one or two more times, but I think the next challenge for me would be to do the ten kilometre run," he added.
Participants agreed that the event was made easier and more enjoyable by completing it as a team.
"Everybody was there to help everybody out so, going through some of the obstacles, you were cheering people on and you were encouraging people to get through it… We all were there for one another. It can be competitive and you can get a chip and be timed but, this way, it was something more," said Coulombe.
"About halfway through I connected with a couple of the girls from the team, and it was a whole new ballgame when you're doing it with someone else and you're encouraging one another… It felt easier than having to do it on your own," said Seguin.
Along with competing in the Mud Hero obstacle course, the Gruelmasters Girls shared that the trip to Manitoba featured team building and bonding moments.
"We not only did the Mud Hero but we had some meals and hung out together, so it was a relationship and bond building experience too," said Seguin.
"We did other things too like going to the spa, got our massages, and chilled after. It made it a perfect weekend," said Diston.
Overall, the team members described the experience as fun and exciting.
"It was fun. It was to see what you can do, what you're capable of, how much we need one another, and how it's more of a joy to do stuff like that together," said Coulombe.
"It was actually a really great experience pushing myself and realizing I can do more then I think I can… It was something to challenge yourself and have fun doing it," said Seguin.
For more information on Gruelmaster Fitness, visit their Facebook page @gruelmasterfitness or call 807-738-4430.