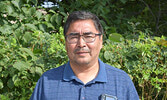 Grassy Narrows Chief Rudy Turtle officially named NDP candidate for federal election
Jesse Bonello - Staff Writer
Grassy Narrows First Nation Chief Rudy Turtle has been acclaimed as the New Democratic Party's candidate in the Kenora riding for the upcoming federal election.
Turtle's acclamation came during a meeting of the NDP's riding association in Sioux Lookout on August 17.
Turtle was a band councillor for ten years, and has been the Chief of Grassy Narrows First Nation for nearly two years.
Turtle recently visited several northern First Nation communities with Kiiwetinoong MPP Sol Mamakwa including Wunnumin Lake, Kingfisher Lake, Kasabonika, and Kitchenuhmaykoosib Inninuwug (KI).
"During my visit up north, some of the communities told me that they haven't had a visit from (Kenora MP Bob) Nault and felt that he wasn't speaking up for them… Because of that I felt that I should run so I could speak up for those people that feel left out. I see that there needs to be a change," said Turtle.
"I feel good about it because most of us (First Nations communities) have common issues, for example lack of housing, medical services isn't that great, and also we have boil water advisories. We have common struggles and I understand what they're going through because we've been going through the same thing in Grassy Narrows, so I feel that, because we have common shared experiences, I can speak up effectively for our people. I'm not just speaking up for First Nations, I want to speak up for other municipalities too," said Turtle.
"Right now I'm very optimistic. I'm hoping that we keep the same numbers as last time.
"I just want to encourage people to come out and vote. I know sometimes people say, 'What good is my vote?' or 'I'm only one person', but, based on my experience in local politics, every vote counts. I think that's the same with the federal election. It could go right down to the wire, and someone's vote could make the difference," he said.
Nault, who represents the Liberal Party of Canada, will be seeking re-election this fall.
Eric Melillo is the Conservative Party of Canada's candidate for the Kenora riding.