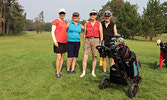 Golf enthusiasts enjoy competitive Ladies Blueberry Open Golf Tournament
Reeti Meenakshi Rohilla -
Staff Writer
This year's Blueberry Open Women's Golf Tournament, hosted by the Sioux Lookout Golf and Curling Club (SLGCC), was attended by 49 competitive participants, further enhanced by a clear bright day to play.
SLGCC Manager Sheila Suprovich shared, "The tournament gained a lot of interested ladies excited to get out, play competitive golf, and have fun. We had 49 total ladies who were split up into 13 groups. With more ladies this year, they were broken into six flights, which allowed for golfers to compete against similar ranked players. Many golfers were local with a few coming from Dryden and Kenora." She added, "It was a great turnout with golfers traveling to be here for it. We couldn't have asked for better weather either with sunshine and little smoke in the air all day."
Preceded by an hour of relaxation with some coffee and muffins, the tournament kicked off at 10 a.m. with a shotgun start, running for about six hours. Participants played 18 holes. The event ended with a dinner buffet laid out for the golfers after a long day of play, followed by prizes. Top five golfers from each flight were awarded a prize. With the prizes being on display, the golfers could pick the one that they wanted, once their name was called upon. The tournament had five hole contests.
Hilary Cameron was the winner for Closest to the Hole on 2 and 4, as well as Closest to the Line on 5. She said, "The tournament on the 31st (July) was great. It was a very fun day and Sheila as well as all the other employees at the golf course did a great job organizing everything. I had a great day and was happy to come away with a few prizes but more importantly had lots of fun golfing with some amazing ladies. I'm definitely looking forward to next years blueberry tournament."
Betty Ann Roy was the overall winner for Flight 1, as well as for Long Drive on 9, Harriet Blake won Flight 2, Barb Roche won Flight 3, Cindy Slade- Henrickson secured first position in Flight 4, Kim Savoie won Flight 5, and Linda Rice was the winner for Flight 6. Laura Sayers won the Long Drive on 3 and Tanya Tekavic won the door prize.
Tournament participant and winner of Flight 4, Cindy Slade- Henrickson shared, "I have been golfing for many years. I always walk the course so it's great to get out for the fresh air, exercise and camaraderie. Golf is a humbling game that teaches you patience. If you have a bad game you just have to get right back out there and try and do better. I was happy with winning my flight in the tournament." She added, "I thought Sheila, the golf course manager, did a great job organizing the tournament. There were lots of good prizes and the day went smoothly. And of course the weather couldn't have been better to walk 18 holes of golf."
Barbara Roche shared her happiness of winning Flight 3, appreciating all SLGCC's efforts for the smooth operations of the tournament. She shared, "I thought the event went very well. We were lucky with the weather, which was very moderate. Other years we have either cooked in the heat, or drowned in the rain! I was very happy to win my flight. I had a very good first 9 holes (for me) and an okay second nine holes. I appreciate all the work that went in to the day, especially by Sheila, the club manager, and of course all the good work of the groundskeepers and volunteers who have worked so hard this year. The storm caused so much damage to the trees, it is a wonder to me how they have cleaned it all up."