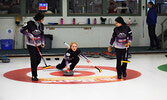 Girls curling team finishes season strong during action-packed week
Jesse Bonello - Staff Writer
The Sioux North High School (SNHS) girls curling team had a packed schedule that saw them play over 25 hours' worth of games from March 4 to 10, averaging three games a day.
The team represented Sioux Lookout at the under-18 Northern Ontario Curling Association Provincials tournament in Sault Ste. Marie from March 4 to 8. On March 8 the team travelled directly to Longlac to represent SNHS at the NWOSSAA (North Western Ontario Secondary Schools Athletic Association) tournament from March 8 to 10, where they had the opportunity to earn a spot at the provincial OFSAA (Ontario Federation of School Athletic Associations) tournament.
"We got fourth in provincials and we placed third at NWOSSAA," said Hailey Goriak, team skip.
"Playing back-to-back, it really made us improve as a team in such little time. We added it up, and we played around 26 hours of game time in a week. It was three games a day," she said.
"They played 13-and-a-half games in seven days without a day off… We were a win away from placing second in provincials and winning NWOSSAA," said head coach Adele Brunton, who has coached the team for the past three years.
For four of the five girls on the roster, which features Hailey Goriak (Skip), Shantal Agustin (Vice), Tya Dell (Second), Sofia Espana (Lead), and Clara Hornig (Fifth), this was their last year of eligibility to play at the under-18 level and at the high school level. The team, who has played together for the past three years, said they met their goals this year of earning opportunities at higher level tournaments, which they described as an unforgettable, and intense, experience.
"I think it was so cool to see the high intensity and really high levels of curling because all the people there are really good… It pushed our bodies and brains to the ultimate level," said Espana.
"It's also sad that it's our last year. We wish we had more time together because we're really starting to gel," she said.
"I think we finally met our goal of going to provincials and placing high enough in NorWOSSA so that we could go to NWOSSAA. Getting those medals proved that it was real and that we finally did it," said Goriak.
"Playing the tougher competition really helped us improve and step up our game. It was a great experience," said Shantal Agustin.
"It was very rewarding, and I was very proud of them. They did an amazing job… We beat some teams that other teams had trouble beating, so we did very well. If they do curl until they're 80, that's great that they're interested. Curling is a sport that you can do that," said Brunton.
The team said curling has been a big part of their lives over the past three years, and they're hoping to keep curling as part of their lives in the future.
"I definitely want to keep curling as a part of my life," said Agustin.
"We were just talking about it, and we said we hope we can curl until we're 80. We want to curl as long as we possibly can," Espana laughed.
With the girl's curling team needing to recruit new players for next year, the ladies are encouraging newcomers to give the sport a try.
"Just give it a shot. You might hate it at first, but you may learn to love it. If it's not for you then it's not for you, but I'd definitely recommend trying it," said Goriak.