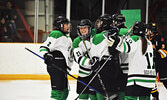 Girl's hockey team shows Warrior mentality during playoff matchup against Muskies
Jesse Bonello - Staff Writer
The Sioux North High School girls' hockey team finished the regular season in fourth place, earning them a best-of-three NorWOSSA semifinal matchup against the top-seeded Fort Frances High School Muskies.

The Warriors gave the Muskies a tough early test, pushing the first game into overtime on Feb. 25. The Muskies scored with 42 seconds remaining in overtime to win the game 3-2, taking an early series lead.

The Warriors hosted the Muskies for game two on Feb. 27. The Muskies took an early 5-0 lead. The Warriors came alive at the end of the first period, and throughout the second period, scoring three straight goals, but the Muskies scored three unanswered goals of their own in the third period to win game two 8-3, winning the best-of-three series 2-0. The Muskies are back in the NorWOSSA finals where they will take on the St. Thomas Aquinas Saints.

Just a year ago the Warriors girls' hockey team was in the midst of a rebuilding year, and the team featured a young core with no grade 12 players on the team.

Warriors head coach Karl Schulz said the team, made up of veteran girls and fresh faces, worked hard to turn things around this year, which led to a playoff appearance.

"I think the sweetest part of the season was watching them grow. We didn't have high expectations at the beginning of the year. All we wanted to do was make sure we competed and played with some pride, heart, and determination. The girls kept working, kept getting better, and it was fun to be a part of. At the beginning of the year, if someone would have told us we'd be battling the number-one team in the playoffs, and making a run of it, people would've laughed at us. They did it… Those girls are warriors without a doubt," said Schulz.

"I think it meant a lot, especially to the veteran girls. It's no secret, we've had some struggles (the girls hockey program), but this shows their character. They didn't give up, they wanted this bad, and I felt it was good for the senior girls. For the younger girls, it's a good experience and it's good to be a part of a successful program," he said.

Schulz said there's already excitement for next year as they look to build off of this year's progress.
"It's definitely exciting, especially after the progress we made this year. Knowing we have a good core group coming back, I think we can only get better," he said.