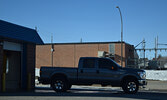 Getting your vehicle ready for spring, summer
Jesse Bonello - Staff Writer
With temperatures beginning to climb above zero (degrees Celsius) in Sioux Lookout, many residents will be looking to prepare their vehicles for the spring and summer months.
The harsh, cold northwestern Ontario winters can leave their marks on vehicles and, when spring and summer approach, many residents look to keep their cars shiny and mark-free.
"We sell a lot more car wash, car care, cleaning, detailing, waxing, things like that… A lot of people like to put on new wiper blades in the spring too… We have a lot of Armor All products that people like for cleaning during this time of year," shared Kathy George, co-owner at Sioux-Per Auto Parts.
Quads and ATV's can also benefit from some care and cleaning during the spring months. They tend to get dirty quickly depending on where their drivers take them.
"If you're off-roading, the best thing is the wand wash because you can clean the under-carriage properly. Here (the drive-thru wash) will take off some of the dirt and grime because there is a wash spray that comes up from the bottom, along with the rocker panel wash, but if you want a good clean you want to use the wand, if your vehicle is really mucky. If you're just doing regular driving and there's some gravel on your vehicle, go in through the car wash. It's mainly preference though," shared Randy Sulkers, who works at Rainbow Car Wash.
Some accessories start to become popular heading in to spring and summer, including LED light bars that are available for cars, quads and boats.
"If you've ever driven Highway 72 at night, they really brighten up the whole area so you can really see the sides of the road because Moose are a big concern here… I have one on my truck and I like it mostly for travelling at night on the highways. A lot of people put them on their quads and boats. They're pretty versatile," said George.
One of the first items on most peoples' checklists heading in to spring is changing tires but, in northwestern Ontario, it can be a guessing game for those without studded winter tires.
"April 30 studded tires have to be off…With just the regular winter tires, people have changed them in the beginning of May, but we've had snow after that. If we're consistently in the plus-temperatures then, basically, it's just anytime you can get them changed… Generally the rush here is around the beginning of May and forward," shared Brent Kikukawa, manager at Aztak Auto.
As the snow continues to melt, some people might say we head into a different season before spring – potholes.
Potholes are not only costly to fill in, but they can add to your vehicle maintenance bill as we head into the warmer months.
"You can do a spring check to check over everything. The big thing this time of year is potholes. People hit potholes and cause wheel alignments to go out. A good tell-tale sign is if you hit something hard and your stirring wheel changes positions and goes off-centre, then something is bent," said Kikukawa.
Spring and summer means more time spent exploring the great outdoors, which can include traveling near and far. For those longer quests, making sure your vehicle is in top-shape following the harsh winter should be a priority.
"Generally too, what happens in spring is people start getting ready for road trips, so it's not a bad thing to get your front end checked out, or your brakes checked out if you're planning on going on the highways and stuff like that compared to winter where people generally don't want to leave home… A good washing is usually good to get rid of any salt or anything that's sitting on your car. Another good thing is to tuck your block heater cord away," Kikukawa concluded.