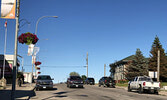 Get your vehicle spring ready with local auto dealerships and garages
Tim Brody - Editor
With spring upon us, local automotive dealerships say now is the perfect time to change your vehicle's winter tires for something better suited for warmer weather.
"Winter tires have a different type of rubber, which is a lot softer than summers, so if you drive a winter tire on bare concrete without any snow or ice under it, it will wear the rubber two or three times faster," Erik Hoey, Mechanic and Service Advisor at Madsen GM shared.
"A winter tire is actually a softer compound, so it will actually wear out faster come summertime," Derrick Sawdo, Dingwall Motors Sales Manager agreed, adding, "Plus it's a good time to do things like oil changes, it's a good time to check your brakes."
Both Hoey and Sawdo advised getting a multipoint inspection and lube, oil, and filter replacement while you are having your tires replaced to ensure your vehicle is in tip-top shape after a long winter.
Hoey said checking your vehicle's alignment is not something a lot of people think about and is something which can become costly to repair. "If your alignment goes, your steering wheel won't be where you want it to be and it could cause accidents and it will also cause the tires to wear out extremely quickly."
Ensuring your vehicle is ready for warmer weather will increase your vehicle's performance they said, and give you piece of mind.