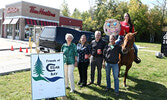 Get a smile, give a smile – Tim Hortons Smile Cookie campaign returns
Mike Lawrence -
Staff Writer
Each year, Tim Hortons ushers in fall with their Smile Cookie fundraising campaign. This year's Smile Cookie fundraiser runs from September 13th-19th at Tim Hortons locations across the country.
The program, which began in 1996, supports over 600 local charities and organizations in communities like ours. Last year alone the campaign raised a total of over $10.5 million across the country.
Here in Sioux Lookout, the sale of Smile Cookies will once again be supporting Friends of Cedar Bay. All proceeds from Smile Cookie sales, which sell for $1 (plus tax) will go towards helping Friends of Cedar Bay to support the Cedar Bay Horse Stables programming, specifically assisting the stables in procuring hay from other provinces due to this year's dry conditions.
Last year the Smile Cookie campaign raised $9790 locally, which the Friends of Cedar Bay were able to put towards maintaining several existing programs.
As in previous years, the hope is that horses and riders may be able to visit Tim Hortons during the week of the sales, weather permitting. Friends of Cedar Bay shared that an appearance by the Magic Unicorn is a definite possibility!
Families are encouraged to show their support for Friends of Cedar Bay by purchasing cookies during the campaign, or if interested, people can contact [email protected] to volunteer with the sale event.