Gay Pride Celebration Month proclaimed in Sioux Lookout
Mike Lawrence - Staff Writer
The Municipality of Sioux Lookout marked the start of Gay Pride Celebration Month on June 1 with a flag raising ceremony held at the Municipal Office. On hand to participate in the ceremony were Sioux Lookout Mayor Doug Lawrance, incumbent NDP MPP-elect for Kiiwetinoong Sol Mamakwa, as well as members of the Sioux Lookout Ontario Provincial Police detachment, and community members. As Andrea Degagne, Community Mobilization/Safety Officer for the Sioux Lookout OPP detachment, noted after the event, "We had 15 detachment members at the flag raising proclamation. This included Command Staff, frontline officers, detectives, special constables and support staff, who all attended to support diversity, equality, and inclusion in our community. The OPP are proud to be included in events that celebrate diversity, and support members of the Sioux Lookout community who may be made to feel vulnerable or otherwise unprotected."
Prior to the raising of the Pride flag, Lawrance commented on the crowd size, noting that the turnout was much higher than the previous year's COVID restricted event.
Lawrance began his opening remarks by showing appreciation to the OPP officers in attendance, stating, "Thank you to the OPP. We pulled our Pride flag out, and it was proudly tattered because it has been used so much, so the OPP have lent us a new one which is now ready to go. It's nice to see the OPP here in silent support for the day."
Lawrance proclaimed, "WHEREAS Sioux Lookout has a long and proud tradition of embracing diversity in all its forms – cultural, social, and ethnic; and WHEREAS the community of Sioux Lookout is immeasurably enriched by the diversity of our people, including those members of the Two-Spirit, Lesbian, Gay, Bisexual, Transgendered, Queer + (2SLGBTQ+) communities; and WHEREAS Pride events across Canada and around the world are necessary to show community support and belonging for 2SLGBTQ+ individuals and families, and 2SLGBTQ+-identifying youth in particular; and WHEREAS Acknowledging and participating in Pride underscores and affirms our respect for the dignity, equality, and visibility of 2SLGBTQ+ people and families; and WHEREAS The global pandemic has increased the isolation, anxiety, and insecurity of some of society's most vulnerable citizens, including 2SLGBTQ+ people and youth; and NOW THEREFORE I, Doug Lawrance, Mayor of the Municipality of Sioux Lookout, do hereby proclaim June as Gay Pride Celebration Month and encourage all residents regardless of sexual orientation, to celebrate together in recognition of the rainbow of diversity with which our 2SLGBTQ+ community contributes to Sioux Lookout."
After the reading of the proclamation was complete, the Pride flag was raised.
Mamakwa then took a moment to address the gathering. After thanking the gathered attendees, Mamakwa stated, in part, "I'm here because I support diversity. We are all the same. No matter the colour of our skin, or our sexual orientation. That's one of the things I've known, in the work I do, in the people I meet, we do not judge people... at the end of the day we are all the same."
Mamakwa continued, "Sometimes you will hear stories about discrimination. Sometimes we hear stories about the violence that is inflicted, based on the difference of how we look. Over my travels, over the past four years of me being an MPP and now a candidate, I always do this... (made V for victory sign with hand) .... I do this for victory over racism. Victory over oppression. Victory over colonialism. As a First Nations person, that's why I do that. But today, I do this for victory over violence, for victory over discrimination, as part of Pride Month. Meegwitch."
Members of the Sioux Lookout Community Gay Straight Alliance (GSA) then took a moment to invite interested parties to attend their first meeting since the lifting of restrictions, which happened at the Sioux North High School Library that afternoon. Speaking of the GSA, Degagne explained, "The Sioux Lookout Community Youth GSA (gay-straight alliance) is a community group that provides an accepting environment for all youth, regardless of gender, identity or sexual orientation. It is a community group led by youth members Grades 6-12, who are empowered by some very supportive adult volunteers/mentors. As well as providing a safe space for these youth, the group is dedicated to making our schools and Municipality a safer place for everyone by promoting diversity and tolerance within the broader community. The group was established in 2015, and coordinated numerous community events, including a colour run, outdoor movie night, and Boo at the Bay. Following a hiatus to respect pandemic protocols, the group is being re-established in a new home at the Sioux North High School. Anyone interested in being part of this group can reach out to myself for more details."
The full video of the flag raising ceremony is available to view on the municipality's YouTube channel at https://bit.ly/3PT9k6V.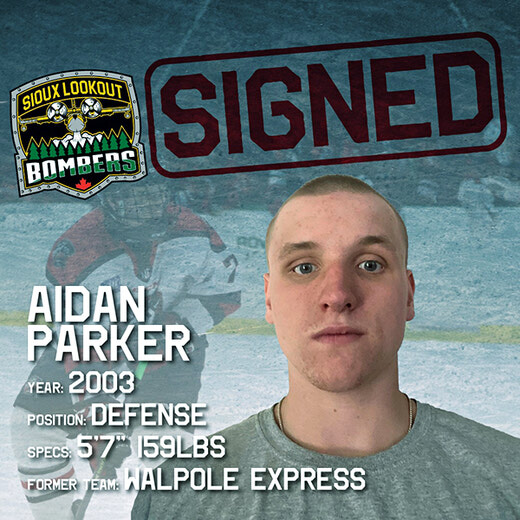 Tuesday, June 7, 2022
The Sioux Lookout Bombers have signed twins Aidan and Phil Parker from Medfield, MA, USA...