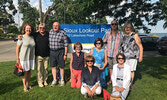 Gathering of friends
Former Sacred Heart School students, who have known each other since grade one, met up recently in Sioux Lookout Park in Burlington, Ontario.
Top row from left: Joanne Clarke Cameron, Tony Belluz, Peter Prior, John Semotok, Jackie Moran Boros, Middle row from left: Luanna Bellon Quirk, Susan Clarke Malcolm.
Front row from left: Ermenia Bastone Maykut, Barbie Fenelon Zapotochny.