Garnet Angeconeb, residential school survivors honoured at Bikiiwewenig Nindawaashishiiminaanak gathering
Special to The Bulletin - Cam Cannon, Narratives Inc.
Bikiiwewenig Nindawaashishiiminaanak (Bringing Our Children Home), the initiative carrying out a search of the former site of the Pelican Lake Indian Residential School (PLIRS), honoured Garnet Angeconeb, survivors, missing children and fire keepers with a day of ceremony and speeches last Tuesday (August 16).
An estimated 120 people attended the gathering at the former site of PLIRS. They heard speeches from leaders including Grand Council Treaty #3 representative Donald Kelly, Nishnawbe Aski Nation (NAN) Deputy Grand Chief Anna Betty Achneepineskum, Northern Nishnawbe Education Council (NNEC) executive director Norma Kejick, MPP for Kiiwetinoong Sol Mamakwa, Sioux Lookout First Nations Health Authority (SLFNHA) president and CEO James Morris, Sioux Lookout Municipal Councillor Joyce Timpson, Jennifer Wood of the National Centre for Truth and Reconciliation (NCTR), and many others.
"This gathering is special," said Lac Seul First Nation (LSFN) Chief Clifford Bull in a speech.
"Garnet initially suggested a Spring Gathering before the buds bloomed. Spring signifies a new beginning for our natural surroundings. Bringing Our Children Home is a new beginning and brings closure for families to begin their healing journeys"
Angeconeb, a survivor of residential school, is renowned for his advocacy and community work. He served as the first Anishinaabe municipal councillor of Sioux Lookout, a founding member of the Sioux Lookout Anti-Racism Committee. He has been outspoken about the trauma inflicted on him and thousands of other Indigenous people by residential schools.
He has received high honours from the Crown including the Queen's Golden Jubilee Award, the Queen's Diamond Jubilee Award, and was appointed to the Order of Canada for his voluntary service.
Now in its second of three years, the Bikiiwewenig Nindawaashishiiminaanak initiative is partnered with 32 First Nations communities in Treaty #3 and #9 territory as well as the NNEC, SLFNHA, and governments of Canada and Ontario. LSFN was authorized by Chiefs' Resolution #21-17 of September 22, 2021, to administer the Initiative.
"Not only did we have our children go missing while attending colonial institutions, for decades, families have not had closure," said Chief Bull. "Our Survivors have carried their scars of trauma. Many of our Survivors have carried their untold traumas to their graves."
Chief Bull called on the Canadian and Ontario governments to legislate long term funding for mental health and wellness programs for survivors, their families and communities.
He explained that reclaiming parenting, languages, and culture — all of which were targeted by the Indian Residential School System — are necessary for people's survival. He said doing so will require intertwining existing programs in communities with "wraparound" services supported by the Canadian government.
"The effort and idea are possible in each community," he said. "The programs already exist in the communities. Our healing needs to start from our own communities."
While the initiative is tasked with conducting searches and identifying missing children, it is part of a broader push toward healing and reconciliation in impacted communities.
Angeconeb reflected this in his address to the Survivors. "This is another chapter that is going to be difficult. We need to focus together on what we're doing and why we're doing this," he said.
"Stay together. Be strong. Have courage. Listen. Listen to the people. Listen to the silent voices of the children. Listen to the voices of the lost spirits wondering around aimlessly and let's help bring them home."
IRS Survivors, their families, and anyone requiring emotional support or assistance can contact:

IRS Survivors Society at 1-800-721-0066 (toll-free)

IRS Crisis Line at 1-866-925-4419

NAN Hope 1-844-NAN-HOPE (626-4673)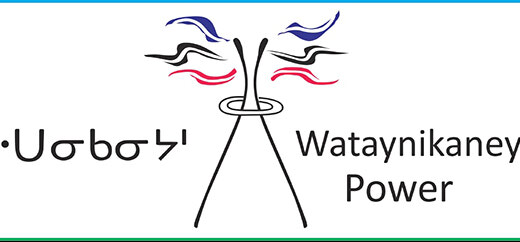 Tuesday, August 23, 2022
The Wataynikaneyap Power Transmission Project has reached a major milestone with the completion and energization of a 230 kV line, approximately 300 kilometres from Dinorwic to Pickle Lake, Ontario...