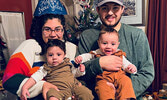 Fundraiser for local family exceeds goal
Mike Lawrence -
Staff Writer
A GoFundMe campaign supporting a local family has raised $19,835.43 in donations to assist in supporting them through a medical crisis. The fundraiser, organized by Maria Kirton, will help cover the costs associated with moving the family to Thunder Bay while all medical options are pursued.
When Jory King was taken to hospital on Jan. 15 for leg swelling and high blood pressure, neither he nor his fiancée Jessica Crawford could have foreseen the turn their lives were about to take.
Diagnosed with suspected kidney failure, King was medevac'd to Thunder Bay Regional Health Sciences Centre. After blood work and a biopsy, it was revealed that King had lost 50 percent of his kidney function to scarring and the remaining 50 percent was under attack due to inflammation. The treatment plan of dialysis and medication requires that King stay in Thunder Bay until at least April, far from his young family. The decision was made to bring Crawford and their 7-month-old twin boys to Thunder Bay for the duration so the family could remain together, but uprooting a life can be stressful, not to mention costly.
As Kirton describes, the decision to try to help the young couple out was an easy one to make, stating, "I'm Jessica's aunt, she's my sister's daughter. Family is huge for us. We would do anything for any of them. Jory has become part of our family and we love him dearly. I was thinking 'What can I do, as an aunt?'" Kirton said that with the inability to run fundraisers such as spaghetti suppers or other such events due to the pandemic meant there were only a few other options available. GoFundMe was the choice she went with, explaining, "I've donated to GoFundMe before, so I thought, 'Well, I'm going to do this!' I set it up, there's just a small fee because they do everything. You just put what you need, you put your stuff in there, and then it just takes off."
And take off it did.
"It went amazingly. I expected it would take maybe a week or so, maybe longer, to reach my goal, but it was like the next day. In two days, we had exceeded our goal. My goal was $18,000, but we've raised $19835.43. It just brought tears to my eyes, I couldn't believe it, I was so overwhelmed with the generosity."
Looking back, Kirton added, "I just thought, we've got to do something, because they are both not working. He can't, and she's on maternity because they have two beautiful boys, twins. They are a young family just starting out, so they aren't going to have anything in reserve. The gratitude, even just talking about it right now, I just feel this overwhelming feeling of joy at the generosity of people here in our community, friends and family afar, acquaintances. All the encouraging words that we've been getting… and Jory and Jessica just can't express…. they are so thankful."
As for how the couple are currently doing, Kirton shared, "They are doing the best they can do. Jory goes to dialysis three times a week. They are trying to be a family and stay positive for the boys and for themselves. They are probably there until mid-April for sure, then we'll know more once we get some information on the results of the biopsy and how everything else goes after the surgery. We will be keeping people updated as things progress."
Again, says Kirton, it all comes down to family, stating, "Family is huge, and when it hits so close to home, and they are so young… there's a saying about family, 'We're like branches on a tree, we go all different directions, but the roots remain the same.' We stick together, we might not see each other every day but when things come up, we pull together."
In a Facebook post on Feb. 3 Crawford expressed the gratitude she and King were feeling, stating, "Jory and I would like to thank every single person who has donated so far. We are speechless on the amount of support through donations and those who have shared the link to our GoFundMe. Words aren't enough to say… Thank you so, so, much!"
Although the GoFundMe campaign wrapped up on February 9, Kirton says that individuals who would like to contribute can still send an EMT to her email account at [email protected].