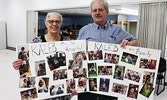 Fundraiser for Kaleb Hochstedler and family surpasses $11,000
Tim Brody - Editor
Bill and Susan Hochstedler are thanking the community for the tremendous outpouring of support for their grandson Kaleb, 10, who has been battling three types of cancer for over year.
A bake sale and silent auction on Jan. 25 at St. Andrew's United Church raised more than $11,000 to support Kaleb and his family, and Susan Hochstedler said donations are still coming in.
The fundraiser was organized by family friend Geraldine Morgan, who knowing Kaleb's situation, wanted to help. "Many people donated items and as a result, it was a very successful auction, a very successful bake table because everyone in the community just brought in baking, it was coming in so fast it was a blur," Morgan shared, adding, "Sioux Lookout is a very caring and a very giving community."
Susan and Bill Hochstedler said the whole fundraising experience was quite humbling and amazing to see.
"I put a poster on social media and it went crazy. It just came. We did not ask for anything. It was just unbelievable. It blew us away, the support. I've heard over the years that this town is amazing for charities, but to experience it firsthand is just mind boggling," Susan Hochstedler added.
Despite the amount of time he has had to spend in the hospital, Bill and Susan said their grandson has maintained an unbelievably positive attitude. A bone marrow transplant for Kaleb is anticipated soon.
Kaleb lives in Brazil where his parents are missionaries with Abba Ministries.