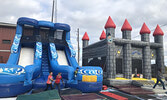 Fun fundraiser
Sioux Looks Out for Paws animal rescue partnered with Fun-Tastic Castles from Thunder Bay to present fun, family oriented fun in town on Sept 27 and 28.
Fun-Tastic Castles set up a bouncy park, while Sioux Looks Out for Paws held a fundraising BBQ in the Good News Books parking lot.
Lynda Ducharme, Sioux Looks Out For Paws board chair, said the event went well, adding the organization is in need of donations of cat litter. The animal rescue is also looking to add more volunteers to its ranks.
They can be contacted @siouxlookoutrescue on Facebook.