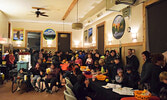 Friendship Centre hosts 'Fright Night' haunted house
Hundreds of Sioux Lookout and area residents helped the Nishnawbe-Gamik Friendship Centre kick off their Christmas Hamper Drive by participating in their annual haunted house on Oct. 26.
Each non-perishable food item, or one dollar, gave visitors a ticket to walk through the haunted house at the Friendship Centre. All the money and food items that were raised go directly to the Friendship Centre's Christmas Hamper Drive.
Through a post on the Friendship Centre's public Facebook group, many participants shared positive feedback and remarks about this year's haunted house.
"It was so fun and scary!!! First timer here and it was excellent," commented Colleen Janis.
"You guys rocked it!! Lots of good reviews from people coming out and my kid," commented Dorothy Broderick.
"It was amazing!! Every year we look forward to this event and once again you did not disappoint!!" Nancy McCord commented.