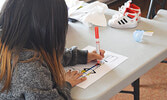 Friendship Centre hosts Family Dental Day during March Break
Jesse Bonello - Staff Writer
Parents and children were able to enjoy a free lunch, along with activities and gathering information, during Family Dental Day at the Nishnawbe-Gamik Friendship Centre on March 15.
The Northwestern Health Unit (NWHU) was there to talk about their Fluoride Varnish Program while handing out dental related prizes, dental supply goodie bags, free toothbrushes and toothpaste, and coloring activities for kids.
JoAnne Van Horne, who is a program assistant and health educator at the NWHU, shared that she usually promotes the program through different agencies in Sioux Lookout.
"We do take requests from any community organization, but I do try to touch base with the Out of the Cold Shelter, First Step Women's Shelter, the Friendship Centre, Sunset Women's Aboriginal Circle," she said.
"I mainly talk about our Fluoride Varnish Program that we offer to children as soon as they start getting teeth… I promote good brushing habits, flossing, and I talk about sugar with kids. I also talk about how we do our dental services within the school system," she continued.
The NWHU website explains, "Fluoride is a naturally occurring mineral that is important in the formation of teeth and bones. Fluoride helps make tooth enamel harder and more able to resist tooth decay. Some communities in our area include fluoride in the municipal drinking water supply as an effective way of reducing dental decay. Fluoride can also be found in varnishes, toothpastes, rinses and other forms from the dentist."
The website also adds about the Fluoride Varnish Program, "The Fluoride Varnish Program at the Northwestern Health Unit is a fluoride treatment painted directly on the teeth with a small brush. It makes teeth stronger by making the enamel harder. At least two applications are needed each year to help prevent cavities. Fluoride varnish can be applied on teeth as soon as baby teeth start to appear in the mouth. This is a free service from the Northwestern Health Unit. Step 1 – teeth are dried. Step 2 – fluoride varnish is painted on the teeth with a small tooth brush. The Fluoride Varnish Program is offered at many community locations. Call the health unit at 1-855-407-6453 for the site nearest you."
Van Horne explained that some of the snacks kids are eating during the day at school sit on, and eat away, their teeth, especially snacks that pack a sugar-loaded punch.
"Even the matter of sugar in drinks, some parents think kids need sugar because then they'll like the drink, but that's not true. If you start your child on water they'll learn to like water without sugar but, once you start adding sugar in drinks, they'll get used to the taste of it," she said.
"It's hard to pack lunches. I get that, I had small children as well. Leave the sticky stuff at home because as kids eat those Fruit Gushers and Fruit Roll-Ups throughout the day it's just sitting on their teeth all day long… Kool-Aid Jammers are among the worst. They have around six teaspoons of sugar in each pouch, so when I see a child that has three or four of them throughout the day, that's a lot of sugar that child is consuming," she added.
Van Horne provided other tips and recommendations from the NWHU, including taking your child to the dentist as early as one year of age.
"We recommend about every three months you should change up your toothbrush or if you've had a cold or have been sick. We also recommend that you should take your child to the dentist at one-year-old. I know it sounds young, but we want it to be a positive experience. We want that child to go in there and get to meet the dental team in the office and not go there when all of a sudden they need treatment done because that's going to be a negative experience. We want brushing teeth to become part of their habit, visiting the dentist and all those things on a positive note," she concluded.
For more information from the NWHU on keeping your smile shiny and healthy, check out www.nwhu.on.ca/ourservices/DentalHealth/Pages/Tips-for-Good-Oral-Health.aspx