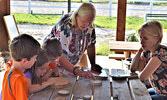 Friends of Cedar Bay teach the importance of the Boreal Forest
Jesse Bonello - Staff Writer
Sioux Lookout and area residents were invited to join the Friends of Cedar Bay on August 13 for a presentation about the trees commonly found at Cedar Bay.
Friends of Cedar Bay board member Aileen Urquhart led the presentation at Cedar Bay where ten participants learned more about the Boreal Forest ecosystem, facts about the secret life of trees, and how trees drink, breathe, and make food. She then took the group of participants for a tree walk down the Cedar Bay walking trails.
Urquhart shared that she wanted to teach people more about the local forest because it's such a well-used resource in the community.
"It's a wonderful resource. It's beautiful, so people can walk. There's walking trails, there's bike trails, and people walk their dogs too," she said.
Along with forestry, Urquhart also touched on the importance of the local wetlands as well.
"We emphasize the importance of wetlands and conservation, the importance for migrated birds, and how it's important to keep the wetlands for fish and the ecological filtering and cleaning of the water. It's also a place of nesting for the birds, so the trees are important but so are the wetlands as well," she said.
When talking about all of Canada's forests, with the Boreal Forest being the largest, Urquhart said that the forest has been crucial to combating large amounts of carbon.
"When we're talking about climate change, the significance of the forest because it holds a huge amount of carbon that has been fixed through photosynthesis… If the forest wasn't there doing its job of fixing carbon we would be in much worse state then we are, so it's really important to preserve the forest," she explained.