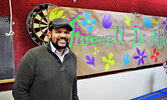 Friends, colleagues bid farewell to renowned Sioux Lookout physician
Jesse Bonello - Staff Writer
Friends, colleagues, and former patients filled the Sioux Lookout Legion to wish Dr. Michael Kirlew a fond farewell on Jan. 25.
Kirlew has called Sioux Lookout home for over 12 years, working as a physician at the Sioux Lookout Meno Ya Win Health Centre (SLMHC) and in northern communities.
Kirlew will be moving to Moose Factory, Ontario next month, where he will be providing physician services. He said the experience has allowed him to meet wonderful people in Sioux Lookout and the north.
"I was originally planning to work somewhere else and that didn't come through at that time. They actually told me to come to Sioux Lookout, so that's how I got here," said Kirlew.
"Sioux Lookout is a phenomenal spot and it really welcomed my family. It's a beautiful place with lots of amazing people. I had the fortunate privilege of being able to work in Wapekeka (First Nation), and being able to work in the north, and I have met amazing people that have taught me amazing things. It was truly an honour," he added.
Those in attendance had the opportunity to share funny and inspirational moments from their time with Kirlew. Many of his friends and colleagues said Kirlew provided plenty of positivity, motivation, and inspiration, and his educational podcasts, called Dr. Mike Kirlew Presents, have reached over one-million listens, which has helped put Sioux Lookout on the map in the medical field.
"I worked with Mike as a medical student. I was here in 2012 for a year of medical school as part of the NOSM (Northern Ontario School of Medicine) curriculum, and Mike was a big reason why I decided to come back here. He was a major inspiration as a teacher. He's actually known across and, honestly, he's probably the most well-known family doctor in terms of an education stand point. Medical students and residents all have heard of him. He has a really popular podcast and it's had a million listens, so he's very well-known in that circle. He's probably the reason a lot of people have come here," said Brodie Marshall, SLMHC physician.
"He's such an incredible person… One of the nicest people I've ever met. He's just a guy that everyone loves," he continued.
"He's one of the most positive people you can imagine. Even in circumstances that are really hard or challenging, Mike's always there providing some type of positive light or attitude to it… Very few doctors or physicians are able to create connections that are so strong with people. It's such an important part of healing," said Aaron Rothstein, SLMHC physician.
"Especially with people that everyone else would have trouble connecting with, he has the ability to connect with everybody really well," said Ruben Hummelen, SLMHC physician.
Along with his podcast, Kirlew has been featured in various news outlets across the country, including the Toronto Star and CBC News: The National, advocating for improved Indigenous health care for patients in northern communities.
Kirlew said the opportunity to work in Sioux Lookout and the north is an experience he will never forget.
"It was an awesome experience. I worked with amazing colleagues. I had the opportunity to meet some incredible people, and truly inspirational individuals, and it was an amazing experience. It's an experience I'm going to treasure for the rest of my life," he said.