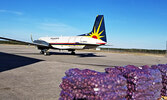 Fresh Market Foods partners with Indigenous Sport & Wellness Ontario to expand potato deliveries
Jesse Bonello - Staff Writer
Kenora resident Tania Cameron, who is the North West Regional Coordinator for Indigenous Sport & Wellness Ontario, has been working with farmers in the Winnipeg area who are looking to offload potatoes. Cameron has been delivering those potatoes, at a cost of $15 per 50-pound bag, to Kenora and surrounding First Nations. A recent partnership with Fresh Market Foods has allowed her to expand potato deliveries to Sioux Lookout, Lac Seul First Nation, and communities across the north.
"This is totally new. It started last month, maybe four or five weeks ago, I noticed there was a farmer posting potatoes for sale because his markets closed, and he's just outside of Winnipeg. He would serve the restaurants around Winnipeg, and with the pandemic he had a storehouse full of potatoes he needed to offload. I did a couple of runs with his farm, and then the Globe and Mail did an article on the work I've been doing so another farm reached out the following week in Portage la Prairie. They've been so good, and they've been so appreciative, to offload potatoes they have in their warehouses," said Cameron.
"I was already working on potato deliveries to Kenora and the surrounding First Nations and I was getting messages from friends in Sioux Lookout and up north saying they wish they could get this deal. I was sharing this with my supervisor and talking about how food security is an issue not just for Indigenous families but all across the region, so one of the board members said they're friends with Todd (Nadon, co-owner of Fresh Market Foods) over at Fresh Market and maybe you can work together. We had a short teleconference with Todd, and he was eager to help and be part of this initiative.
"The deal is 15 dollars for a 50-pound bag. Last week I was able to sell 100 bags to families in Sioux Lookout… In our partnership with Fresh Market they agreed that there would be no mark-ups, so they got 80 bags last week to sell in the store. That has a huge impact in our communities, and I'm so happy I was able to spread it beyond Kenora," Cameron explained.
"She had contacted us looking for a place to drop off the potatoes because she had already organized all of this, and we were very happy to do so. She had pre-sold 100 bags in Sioux Lookout, and we also purchased bags to sell in the store for the same cost," said Liz Ward, Human Resources Manager at Fresh Market Foods.
Through Fresh Market Foods' involvement with the Nutrition North Canada Program, over 12,000 pounds of potatoes were flown to Kitchenuhmaykoosib Inninuwug First Nation last week, with the Nutrition North Canada Program subsidizing the cost of freight to send the potatoes on a Wasaya Airways Hawker Siddeley 748.
"We are working with the government. We're eligible to supply the Nutrition North Program, so eligible communities when people from those communities purchase fruits, vegetables, fresh produce, things like that, they get a subsidy back to help off-set the cost of freight. With these potatoes the subsidy actually paid for the freight of that plane, so in the end they're really just paying 15 dollars per bag of potatoes, which is pretty awesome. It's a really great program the government has in place for that kind of stuff, and that's something we've been promoting and advertising to all our northern customers to utilize this program because it does off-set a lot of those costs when you're buying fresh produce," said Ward.
"Prior to this we've already been providing that service to our northern customers because many are in communities that don't have road access or they're only in winter road access. We've been running the Nutrition North Program for just over a year and a bit to off-set some of those freight costs as well for our customers. We were already set up for this," said Ward.
According to nutritionnorthcanada.gc.ca, "Nutrition North Canada is a Government of Canada subsidy program to provide Northerners in isolated communities with improved access to perishable nutritious food."
"Due to the coronavirus outbreak, to address growing concerns about food security we are extending the list of perishable and non-perishable items subsidized when shipped by air to all 116 Nutrition North Canada eligible communities from now until March 31, 2021," the website shares.
Cameron said she's working with Fresh Market Foods to provide a potato run just for fly-in communities, which would include over 600 50-pound bags.
"We're going to do another shipment of 630 50-pound bags, so that's another 31,500 potatoes that we'll get to the region," she said.
"In the Kenora area we've had four or five First Nations place orders for their communities. In Sioux Lookout last week we were able to serve families in Lac Seul and of course Sioux Lookout. We sent some bags to Kingfisher Lake, Weagamow, and we sent 100 bags to Slate Falls.
"It's very rewarding work. It makes me happy. With the potato runs so far, I've had people who would buy a bag for themselves and they would buy a second bag requesting us to distribute to families in need, so that's what I've been doing… Families are so happy to receive help during this time," she concluded.