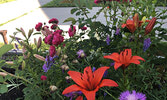 Fresh Market Foods, Home Hardware confirm Garden Centres will be open
Jesse Bonello - Staff Writer
Both Fresh Market Foods and Home Hardware confirmed they are moving forward with full garden centres this year after the Government of Ontario announced garden centres among businesses allowed to begin operations as of May 4.
"The Ontario government is allowing certain businesses and workplaces to reopen as long as they comply with strict public health measures and operate safely during the COVID-19 outbreak. Those permitted to start up include seasonal businesses and some essential construction projects," the Government of Ontario announced in a news release on May 1.
"Although certain businesses are being permitted to reopen, it is critical that people continue to stay home, practise physical distancing and only go out for essential reasons, to pick up groceries, prescriptions or to keep a medical appointment. It is through these simple actions that Ontario is making progress to stop the spread of COVID-19," the release informed.
Along with confirming the opening of their garden centres, both Home Hardware and Fresh Market Foods will have alternative methods in place for customers to purchase garden centre items even if they can't physically enter the garden centres.
"We are going to have a garden centre this year. That is happening. The government has allowed garden centres to open, which is a nice thing to happen," said Todd Nadon, Co-Owner of Fresh Market Foods.
"It's going to be modified, so you're not going to have people just wandering around inside the garden centre like they've been able to do in year's past, which is unfortunate because I know people really like to look and see everything. I think what we're going to try to do is put as clear of a poly over the garden centre as we can, mindful of what the plants need to grow properly, and try to open it up during the day so people can always walk around the fence line and see some of the different colours and stuff we have in but of course it will be curbside pick-up, phone, and email orders.
"We'll probably have a variety of different plants in the store for people to look at while they're perusing. Obviously it won't be the full assortment, but it will be some of your major players. Your hanging baskets, vegetables, things like that. At least there's some ability to touch and feel," Nadon explained.
"We moving ahead with a full garden centre again this year, so there won't be anything different there. We are expecting the mandate we have from the government to be changed. We really hope customers will be able to enter the garden centre but if, by chance, the mandated store closure we have here stays on we basically set up a menu for customers to purchase their plants, which is kind of new to our garden centre. That's how we plan to handle filling our flower orders for customers through our menu," said Jamie Wisnoski, Owner and Operator of Home Hardware.
Wisnoski said customers will be able to purchase a variety of soils for their gardens, as well as lumber and pre-cut packages, as more people look to use raised garden beds for their plants.
"We can buy and get customers a specific package, which is a raised garden bed that's pre-cut and ready to go so it's just a matter of putting it together. There are tons of different online plans for raised beds, and we have all the lumber to fulfill those orders for someone that wants to build a garden bed from scratch," said Wisnoski.
"I'd definitely suggest getting soil in, and all our soil comes and is tested for the proper pH balances. We have a full selection of soils for either raised beds or gardens that are going on the ground," he said.
Both businesses said curbside orders can be placed over the phone, and customers can stay up to date on their stores via Facebook (@FreshMarketFoods and @siouxlookout
homehardware).
Nadon and Wisnoski said customers can see additional garden centre details and opening dates on Facebook in the coming weeks.