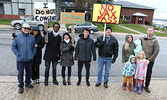 Freedom rally protests COVID-19 mandates
Tim Brody -
Editor
A small group of local residents took to Front Street in Sioux Lookout on Oct. 30 to protest Ontario's COVID-19 public health mandates and the COVID-19 vaccine requirement for members of the federal workforce.
Freedom rally protester Michael Sweeney shared, "Today's rally and every other rally that we plan on having, and the one prior to this too, is a rally solely based on freedom. We don't discriminate. If you have a vaccination, if you don't have a vaccination, if you have a mask you want to wear to protect yourself around other people, if you don't want to wear a mask, we're inclusive and we're all about the freedom of autonomy. This is something we're all born with, and this should be continued through life."
"I don't agree with the mandates being upheld right now," he said, adding, "The fact that they're rolled onto the individual businesses and they're the ones pushing them onto the employees, if you will."
The provincial government released A Plan to Safely Reopen Ontario and Manage COVID-19 for the Long-Term on Oct. 22, which outlines the province's gradual approach to lifting remaining public health and workplace safety measures by March 2022.
Sweeney shared, "I heard that and it's nice to see that, but beyond nice, I don't hold any merit to it. The goalposts have been set in this loose sand multiple times now and have been pushed back farther into the sand. As November 15 approaches for most of the federal employees here, that's when I guess the hard date for the mandates is supposed to kick in – I want to say I can almost see it moving again, but I'm not a fortune teller and we'll see where life leads."
According to the Government of Canada's website, "Under a new policy, federal public servants in the Core Public Administration (CPA), including members and reservists of the Royal Canadian Mounted Police (RCMP), must be vaccinated against COVID-19."
The website goes on to state, "As early as November 15, public servants who refuse to disclose their status or who are not fully vaccinated will be placed on administrative leave without pay."
Sweeney said he would like to see changes to government COVID-19 mandates.
"There are people losing their livelihoods, not being able to provide for their family under the basic means: food, shelter, and security. That shouldn't happen from a government that was put in place by the people, who should be working for the people. This is another voice that is being censored and not heard and all we're trying to do is have a voice for what's going on," he said.
Last Saturday's rally was the second that has been held in Sioux Lookout.
"The plan is hopefully to do them every other weekend," Sweeney said, adding that the location of the next rally has yet to be determined.