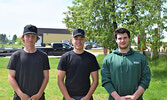 Former Warriors recruited, signed by Dryden GM Ice Dogs
Jesse Bonello - Staff Writer
The Dryden GM Ice Dogs have announced that former Sioux North High School (SNHS) Warriors Kendall Schulz, Ben Forbes and Cortez Favot have officially signed with the Junior "A" team, and the trio will begin playing with them this fall.
Following an OFSAA appearance in 2017-18, SNHS Warriors head coach Karl Schulz shared that multiple SIJHL (Superior International Junior Hockey League) teams were watching the three Warriors throughout the 2018-19 season, which saw them clinch another OFSAA appearance.
"Three teams from the SIJHL had been in communication with either myself or the other coaches on the team pretty much from the start of the year. They've been watching them all year," said Schulz.
"It's great to see hard work pays off. These guys pushed themselves hard year in and year out since they were little kids, and they got better every year," he added.
When asked about playing for the Dryden team, just an hour's drive away, the players shared that they think the experience of being close to home will be more fun.
"It's going to be a lot of fun, I think, just being more local," said Ben Forbes.
"It's good, and hopefully we can get lots of fans from Sioux to come out there," said Cortez Favot.
It wasn't a priority but, after playing organized hockey together since around the age of four, the players shared that it was only fitting that they stick together as they take their careers to the next level.
"We've played hockey our whole lives together, it's just suited that we play junior together as well," said Kendall Schulz.
"It's pretty funny, and awesome, how it all worked out. We were all kind of going our separate ways until we got the call from the coach. So now we figured we might as well stick together. We came this far," said Forbes.
"It's just how it worked out. They asked all three of us, and we got together and talked about it. We thought we'd have a good time there," said Favot.
Taking the next step to Junior "A" will see an increase in expectations, which is something that the players, and coach Schulz, say they're ready for.
"We're definitely going to have to work for our ice time. It's not going to come easy, so we're looking to put in the work and get things started," said Favot.
"There's a lot of talented people on that team otherwise they wouldn't be there, so hopefully we can prove to the coach that we deserve our ice time," said Forbes.
"All three of them have tremendous potential, but this is junior hockey now so they're going to have to earn their ice time. Just because they were signed doesn't mean they're getting a regular shift. They're going to have to go there and earn their ice time, which I'm sure they will. Their work ethic is outstanding. Even though they're known as offensive players they're willing to do whatever it takes to make it at the next level, so I'm quite confident they will move on and prove themselves even further… They're getting three guys that are going there with full intentions of putting everything out there on the ice," said coach Schulz.
The players and coach Schulz agreed that the recent recruiting from SIJHL teams, along with the signings by the Dryden GM Ice Dogs, prove that hard work pays off no matter where you play or who you play for.
"I think it shows that you just have to work hard. It doesn't matter what team you play for, you're going to be seen by someone. Your opportunities will come," said Schulz.
"It doesn't matter where you are, there's always people looking. If you're putting up the numbers, or even showing the best of your capabilities, someone will see you," said Favot.
"It's fantastic that the Ice Dogs do look at our players and do consider them locals. If you look back there's actually a history of Sioux Lookout players on the Ice Dogs. Not really recently, but we have put a few on there. It's good for the town to know that they are looking," said coach Schulz.
"I think you're going to see the success of the Warriors is going to translate into a lot of kids with hockey dreams, and hopefully it goes from Warriors to the Ice Dogs and maybe further. I think it sets a good example," he concluded.