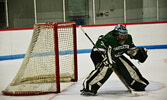 Former resident wraps-up NCAA hockey career with MVP award
Jesse Bonello - Staff Writer
Former Sioux Lookout resident Rylie Wills is wrapping up her senior year at Castleton University, which is located in Castleton, Vermont, and she's doing it in decorated fashion.
Wills is the starting goaltender for the Castleton Spartans women's ice hockey team and, this year, she received the team's Most Valuable Player award after sporting a 2.43 goals against average and a .923 save percentage. Her efforts helped earn the Spartans third-place in the New England Hockey Conference (NEHC), which led to a NEHC Championship appearance for the team.
"It was great. We had a lot of girls who were good contenders for that. We had one girl on the second-team All-Conference and three of us on third-team, so there were a lot of people who contributed to our teams' success. Being recognized for the efforts I've put in felt great, especially coming from a lot of injuries in the years prior. To be able to play a full season and help my team get to where we wanted to be and start laying down more of a consistent expectation of our success in our final years as seniors, it was just a great feeling," Wills shared.
"This past year we had a strong senior core and we were very successful. We ended up making it to the finals of our conference against the team who was the defending National Champions. Unfortunately that game didn't go as we'd like but, earlier in the season, we had actually tied them 3-3, which is a big deal in our conference because we've only ever beaten them twice and tied them once in 30 games, or something like that, so tying them was a pretty big deal. We were the only conference team to take away points from them all season, so that was pretty exciting. It didn't go as we wanted in the finals, but it was great to be out there and play in that environment. There were over 1200 fans there, so it was pretty cool," she continued.
Wills was born and raised in Sioux Lookout where she spent her time playing hockey in the Sioux Lookout Minor Hockey Association and, eventually, in Dryden playing AA hockey. She played for the Queen Elizabeth District High School Warriors boys hockey team in her grade nine year before moving to play for Balmoral Hall in Winnipeg for her grade 10, 11 and 12 years. Her connections through her youth hockey career led her to Castleton University, where she will be graduating shortly.
"A girl from Kenora that I grew up playing summer hockey with, she ended up going to Castleton as well for University. In just knowing her, and they needed a goalie, I ended up getting a spot out there… I graduate in May, and I'll be graduating with a forensic psychology degree with honours," she explained.
When asked about her time at Castleton University, Wills said that, despite the school being located in a small town, she was able to experience a lot during her four years.
"Castleton was great. It's a small town, but it's a different small town then over here… We're about 15 minutes from what they call a city. We're about three hours from Boston, three hours from Montreal, five hours from New York, so I've been able to get out and do a lot," she said.
"It was division three hockey as opposed to division one which, although it's not the top level that you can play over there, it gave me the opportunity to do a lot of different things that I wouldn't have been able to do had I been playing division one. It let me be a resident advisor at the school and work full-time to subsidize my costs, it let me have a lot of life experiences outside of hockey, and meet a lot of great people…I got to grow a lot, got to meet a lot of great people, and I wouldn't have wanted to play anywhere else. I know everyone probably says that in hindsight, but I feel like I've met a lot of people from around the world, not just Americans. We had a couple Swedish people on the team and, right now, one of my closest friends is from England so, if I ever go there, I have a place to stay. It was all around a great experience," she added.
Wills shared that she has already received global opportunities following her graduation, which included an offer to work at a law firm in Dublin, Ireland. For now, Wills explained that she plans to be back in Sioux Lookout for a year before applying to law schools in southern Ontario. She wants to utilize her time back in Sioux Lookout to give back to, and be involved in, local youth hockey.
"Right now my plan is to come back and work for a bit. I'm hoping to try and go to law school after that but, while I'm home, I definitely want to be involved with Sioux Lookout Minor Hockey. That's what I grew up in and that's where I developed my skills to get the opportunities to go and play in other places to get more exposure. To be able to give back to that organization and really help develop their goalies and players in general, I feel like that would be my next step with hockey while I'm home,"
she said.
"I feel like hockey has given me the skills I need to be able to make it wherever I want to go so, if I put my head down to it, I hope that I can get wherever this takes me. I don't really have any set plans at this point in time," she concluded.