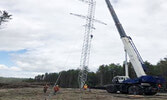 First tower structure in Wataynikaneyap Power Transmission Project erected
Tim Brody - Editor
Wataynikaneyap Power is celebrating a major milestone.
The company shared that on July 10, in the Sioux Lookout area near Highway 516, the first tower structure of the Wataynikaneyap Power Transmission Project was erected.
When completed, the project will connect 17 remote First Nation communities to the provincial power grid.
Marc Miller, Minister for Indigenous Services, tweeted in response to the announcement, "Congratulations to all involved on your hard work in reaching this milestone! Another significant step toward completing the Wataynikaneyap Power Transmission Project!"
Seamus O'Regan, Minister of Natural Resources Canada also took to Twitter to offer congratulations sharing, "Wataynikaneyap. 'Line that brings light.' This project will connect 17 First Nations to a single, Indigenous-owned and operated clean energy grid. Our government is honoured to support it. This is Canada's clean energy future."
In a recent interview with The Bulletin, Mike Jardine, Chief Operating Officer of Wataynikaneyap Power, confirmed the project is maintaining its targeted completion by the end of 2023.