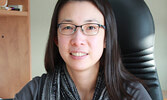 First dose vaccination rates in NWHU catchment area plateaued, MOH encouraging more people to choose to get vaccinated
Tim Brody -
Editor
First dose vaccination rates in the Northwestern Health Unit (NWHU) catchment area have plateaued according to Medical Officer of Health (MOH) Dr. Kit Young Hoon.
NWHU shared in a July 12 media release that, "Northwestern Health Unit (NWHU) and local partners have now given over 100,000 COVID-19 vaccine doses in our region. This milestone comes as 78.4% of the area's adults aged 18 and older have received at least one dose of the COVID-19 vaccine, while 64.1% are fully vaccinated with two doses."
Dr. Young Hoon had shared with region media last week, "It would be preferable if our first dose vaccination coverage rates were higher. I think it would be better if it was above 80 per cent, even approaching 90 per cent would be ideal." She added, "At this point, we are encouraging individuals to be discussing why they've chosen to get vaccinated with their friends and family and encourage others to get vaccinated. People who may be uncertain whether they want to get vaccinated or not, we encourage them to seek reliable sources of information, so our website has information on the vaccine (www.nwhu.on.ca), as well as has links to a number of provincial and federal websites where you can get reliable, scientifically based information on the safety and effectiveness of the vaccine. We do encourage everyone to get vaccinated," she added.
People can find out more about booking a COVID-19 vaccination at: https://www.nwhu.on.ca/covid19/Pages/booking-COVID19-vaccine-appointment.aspx.
Asked by regional media last week if she had any insight as to when a vaccine might become available for youth under 12 years of age, she replied, "The expectation is that they will be eligible for vaccinations in the fall, based on some of the preliminary information we're getting. But my understanding is that the research is still ongoing, so the vaccines have not been approved for that age, as yet because they don't have the evidence to make that approval. If they were approved to be vaccinated, the vaccination program for children less than the age of 12 will be focus of the health unit in the fall."
July 12 also marked the first day in months NWHU reported there were no known active COVID-19 cases in the region.