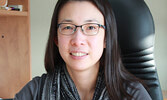 First dose vaccination numbers equal to provincial percentage
Tim Brody -
Editor
The number of people 12 years of age and older in the Northwestern Health Unit's (NWHU) catchment area who have received at least one dose of a COVID-19 vaccine is now equal to the provincial percentage, according to the NWHU Medical Office of Health, Dr. Kit Young Hoon.
"Our vaccination rates have increases over the past weeks, specifically for first doses. Over 120,000 doses have now been given across the region and we're now equal to Ontario with our first dose coverage rate of 85.4 per cent," Young Hoon told regional media on Sept. 23.
As of Sept. 24, the percentage of the population 12 years of age and older in the Northwestern Health Unit's catchment area who had received at least one COVID-19 vaccination was listed at 85.8 per cent, with 77.9 per cent of those 12 and over having two doses.
Young Hoon shared with regional media, "Of all our cases in the region since August 1, the unvaccinated were infected six times more often than fully vaccinated. This rate is very similar to the provincial rate. In addition, provincially, unvaccinated people are 24 times more likely to be hospitalized and 43 times more likely to be in the ICU. Information is updated on Ontario's website each day about the number of cases, hospitalization, and ICU patients by vaccination status."
Ontario's proof of vaccination requirements came into effect on Sept. 22. Young Hoon stated, "We have connected with local businesses and organizations to ensure that they have the information and resources they need. This information can be found on our website on our COVID-19 workplace page."
As of Sept. 27, NWHU was reporting seven active COVID-19 cases across its catchment area.